posted on May 1, 2012 by Catherine Mann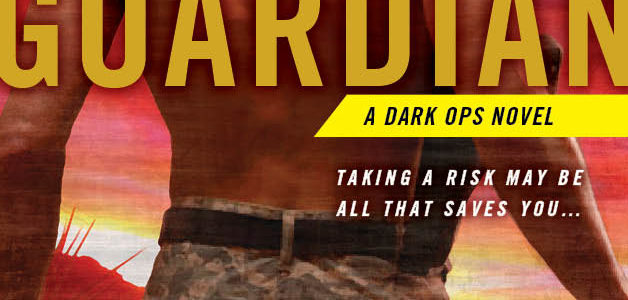 GUARDIAN
CHAPTER ONE
Nellis Air Force Base, Nevada:
Major Sophie Campbell had wanted to be a J.A.G. since she lost her father in elementary school. That didn't mean she always enjoyed her job.
Today, she downright hated it.
But come hell or high water, she would get some useful nuggets of information out of the witness for the defense – cocky aviator David "Ice" Berg.
"Major Berg, you are aware that the Fire Control Officer on your test team, a man under your command, made a serious error firing from an AC-130 gunship into a private citizen's home?"
"Ma'am, I was there," Berg drawled, his South Carolina roots coating each word. "It was tough to miss the flames. But Captain Tate didn't screw up."
Of all the test directors to be in charge of this particular mission, why did it have to be Berg? Sexy as hell with a sense of humor and unflappable calm, he managed to charm his way through life.
Not today.
"Let me rephrase the question." Sophie flipped through the pages of her legal pad.
Stalling.
She didn't actually need further information. She needed to decide the best tact for extracting crucial evidence from the rock-headed aviator occupying the witness stand for the past two hours. Based on prior encounters with stubborn Major David Berg, Sophie prepared herself for a protracted battle.
"Major Berg," she pressed, dropping her paper on the walnut table in the military courtroom, "in the month leading up to the incident, your team was under incredible pressure to complete testing on the gun mount system. You were being pushed to finish ahead of schedule so it could be used in combat."
"Objection!" Counsel for the Defense leapt to his feet. "Is there a question?"
"Su-stained," the judge, Colonel Christensen, monotoned. "Get to the point, please, Major Campbell."
"Yes, sir." She nodded.
Berg didn't so much as blink. He'd earned his call sign "Ice" honestly. The man truly was an iceberg under pressure, and today's stakes were high. Damn high. In order for a child to get justice, a young captain with a spotless record would have his life and career ruined with a court martial conviction.
This case sucked on a lot of levels.
"I'll rephrase." A simple twist in wording would get the question before the witness, cast some doubt in the jurors' minds. "Are you certain Captain Tate didn't cut corners on crew rest before the mission in question?"
Berg quirked a dark, lazy brow. "Asked and answered in my initial deposition. I am certain."
Sure, she was pushing the edge of the envelope with badgering a witness, but her options had dwindled in the past couple of hours. She needed to win this case. Too many people counted on her, the child injured in the military testing accident. She also had a child of her own dependant solely on her.
She refused to consider that Berg might be right. Not that she doubted his honesty. His pristine reputation at Nellis Air Force Base carried whispered "awe" aura. As much reputation as anyone could garner working in the top secret field of dark ops testing. He was known as by the book aviator with nerves of steel. No, she didn't question his ethics, but he must have missed something or been misled by those who worked for him. Maybe he had to cut a corner in the testing process that led to Captain Tate making this tragic – and too damn high profile – military accident.
"Major Berg, do you acknowledge that there was immense pressure in the month leading up to the incident in question?"
"Stress is standard ops in the test world."
"And why might the pressure be higher during wartime?"
"Troops in the field need the technology we develop."
"And in times of stress, you agree that sleep can be difficult?"
Sophie neared the raised wooden stand. Berg radiated such raw strength she doubted any amount of months on the job would lay him low.
A long-banked heat within her fanned to life.
Her steps faltered.
Heat?
The slumbering numbness that had invaded her emotions for the past year eased awake with a burning tingle. An almost painful warmth spread through her, begging to be fed by–
Major David Berg? David? "Ice"? No way!
What could have snagged her attention now, after she'd known him for at least a year and a half? Something about him today seemed different somehow.
His mustache. He'd shaved his mustache, unveiling a full, sensuous–
Sophie blinked once, twice. Had he noticed her lapse? A honking big unprofessional lapse.
She cleared her throat along with her thoughts. "Did Captain Tate receive the full eight hours of crew rest?"
"Twelve hours, ma'am," Berg answered smoothly. "Regulations state crew rest is twelve hours long, something I know, my crews know and I'm sure you know."
"Of course, twelve hours." Well, it had been worth a try to trip him up, create a reasonable doubt. Moving on to plan B.
Sophie closed the last two feet between them, stopping just in front of Berg. Air conditioning gusted from the vents above, working overtime to combat the Nevada summer heat. Her uniform clung to her back, the blue service jacket about as thick and stifling as a flak jacket right now.
Her nerves must be frazzled from the insane year of restructuring her life as a single mother. She needed to concentrate on her job, not … him. Since Lowell's death, she didn't have the time or energy for anything other than caring for her son and paying off the mountain of bills her husband had left behind.
She pressed ahead, placing an evidence bag with a scheduling log inside on the witness stand. "If it's twelve hours, then I'm confused how you fit in the missions and required rest without a single minute being off."
He picked up the schedule, scanned it, and placed it back on the stand. "The numbers are tight, but they work. Yes, we were on a deadline. A tight one with no wriggle room, not even a minute. That's what we do, year in and year out. When has the military not been over worked and under manned?" Berg's drawl snapped with the first twinges of impatience. "So in essence, the crazy ass schedule we work is actually standard."
Trained to watch for the least sign of weakening in her witness, Sophie rejoiced over the almost imperceptible clench of his jaw. Berg's pulse throbbed faster above his uniform collar, the reaction so subtle she felt certain only she noticed. She ignored her own quickening heart.
Time to press the advantage, if she dared.
A quick glance at the judge's bench reassured her. The jowly presider looked in need of some crew rest himself. She needed to move fast.
"Major, you can't be with your testers twenty-four/seven. So it's actually impossible for you to say with complete certainty that Captain Tate received the required amount of rest prior to his mission? I mean really, did you walk with him every step of the way?" Her words fell free with a soft intensity that curled through their pocket of space. "Eat with him? Follow him to the bathroom?"
If she could just piss off Berg enough, she sensed he would snap and slip, say one little thing wrong that would enable her to secure a conviction. It wasn't like he would go to jail – although somehow she knew he would rather go take the punishment on himself than see anyone in his command suffer that shame of a court martial.
"Ma'am, I'm not required to watch my testers sleep. However I did see Captain Tate drive away, in the direction of his home after dinner – which I did watch him eat." His steely eyes glinted like the flecks of silver dusting his coal black hair. "However, I didn't follow him into the bathroom since we're not a couple of junior high girls."
Sophie snapped back a step.
Chuckles drifted from the jury. Damn it. Of course he played well to a crowd. In a military proceeding, the accused could choose whether judge or jury trial and just her luck, they'd gotten a jury.
"Order!" The judge's cheeks shook like a basset hound's. His gavel resounded through the military courtroom.
Part of being a successful attorney involved knowing when to retreat with grace, recouping for the next advance. Having foolishly depended on her husband for so many years, she now struggled with the concept of relinquishing control, of not delivering the last shot.
"Thank you, Major, for that … enlightening … information about the personal hygiene habits of your unit. I only wish you could be so forthcoming with the rest of your testimony." Sophie turned to the bench. "Withdrawn."
The judge darted a censorious glare her way. The jury laughed again, but this time she didn't mind.
Berg canted forward, his shoulders and chest seeming to enlarge, filling the witness stand with his muscular chest full of military ribbons – a Distinguished Flying Cross, a Bronze Star, and almost too many air medals to count. Each oak leaf cluster signified ten more combat missions. He didn't just put his ass on the line testing the newest equipment in the inventory. Berg served overseas, sometime the first to use those new systems outside the test world.
Rumor had it, he'd received that Distinguished Flying Cross in Afghanistan. As the fire control officer in an AC-130 gunship he held off hundreds of Taliban fighters attempting to capture a pinned down SEAL team. Berg had stayed in the fight well past daylight, dangerous for the aircraft. He'd shot so precisely, so effectively his ammo had lasted until a helicopter could arrive with pararescuemen to scoop up and out the injured SEALs.
She accepted the inevitable. Any shot she could deliver here today wasn't going to rattle a man who'd spent hours flying over hundreds of Taliban fighters lobbing potshot and aiming rocket launchers his way.
"Nothing further." Sophie affected her most efficient walk, heels tapping back to the table. She pivoted on the toes of her low pumps. "We reserve the option of recalling this witness."
After two hours of cross-examination, she'd scored more than a few points.
At what cost?
She and Berg had run into each other during early depositions. And even before that, they'd first met in a past investigation, but she'd still been married then. He'd been in the middle of a messy divorce. She hadn't looked at him – hadn't really seen him – the way she did today.
Regardless, stakes were too high for her to worry about David Berg. If she won the court martial proceeding, that cleared the way for the young boy injured in the accident to move forward with a civil suit.
The judge rested his cheek on his fist, the jowl shifting to seal one eye. "You may step down, Major Berg."
Sophie averted her gaze from the witness, pretending to jot notes. With an hour left until court recessed, she didn't want to risk jack. No doubt when she saw Berg next the unexpected attraction would have left as abruptly as it had arrived.
Annnnnd, she looked at him anyway. Damn.
Her nerves tingled.
Tucking his wheel cap under his arm, the major circled to the front of the stand. His uniform fit his lanky body perfectly, accentuating each athletic stride.
She studied him from a more personal perspective. Sexy with jet black hair, but not handsome, she decided. Not in the conventional sense. His angular features defied so mundane a label.
Deep creases fanned from the corners of his quicksilver eyes, attesting to a combination of years in the sun and ready laughter. His skin was a hint lighter where his mustache had been, drawing her attention back to his mouth. He wasn't smiling now.
Berg exuded the confidence of a man comfortable in his skin, his appeal making her distinctly uncomfortable in her own.
Sophie resisted the urge to tuck her thumb in the waistband of her skirt. Already snug, her uniform tightened as he narrowed the distance between them. She resolved, yet again, to eliminate midnight ice cream sprees until she could afford to buy a larger size. He probably didn't even know how to count fat grams.
The hungry heat returned … and she didn't crave a pint of rocky road.
The last thing she wanted was some obstinate aviator cluttering her mind. She finally had her life on track, and she didn't intend to risk her hard won independence simply because of a fleeting bout of hormonal insanity.
Level with her, Berg hesitated. His six-feet-four-inches dwarfed her five-feet-three. Five-four if she added the minimal lift of her shoes.
Even when not in uniform, she'd always disdained high heels, maintaining they gave her the look of a child playing dress-up. At that moment, she would have plea-bargained two gallons of rocky road for a pair of Tina Turner spikes.
Steel gray eyes pinned her for one slow blink before Berg shoved through the swinging wooden rail and out of the courtroom.
***
Major David "Ice" Berg cared about two things above all else: His daughter and his job.
Steamed by more than the Nevada sun, Dave leaned against the exterior wall by the front entrance of the courthouse. At least Haley Rose was settled with his sister for the afternoon.
Five minutes alone with Major Sophie Campbell to straighten the facts and his world would be in order. With one of his tester's career in the balance, he couldn't just walk away.
He glanced at his watch, impatient from waiting in the heat, dryer than his South Carolina home state's humidity, but still a scorcher of a day. He had to pick up Haley Rose from his sister's before driving back to the condo. Single parenthood left him with little time to waste.
What was taking the lady J.A.G. so long?
Jumbled voices swelled through the opening doors. Masses poured out and divided, easing down the courthouse stairs like the gush from an emptying aqueduct. Bluebirds feeding on the patchy lawn scattered, clearing a path. No sign of her.
Dave pushed away from the warm wall and jogged down the steps, exhaling his frustration. He would have to take a long lunch tomorrow and track her down, which would make him late picking up his daughter twice in a week. Crap.
He cut a path across the scraggly lawn. A fluttering bluebird snagged his attention. He glanced back just as Sophie stepped through the door. She paused for a moment to put on her hat. He braced for the inevitable whammy – that wallop to his libido that came every time he looked at her.
Long ago, he'd learned to harness his reaction around her. From the first time he'd come across her eighteen months ago during a deposition on another case, he had wanted her. The glint of her wedding band had sparked regret. Not to mention he'd been in the middle of a hellacious divorce.
After discovering Sophie's ritzy address, he'd thanked heaven for the near miss. His single brush with a materialistic woman was one too many. His single brush with marriage was a mistake not to be repeated as well.
Her marital status may have changed, but her posh neighborhood remained the same. He didn't need any further incentive than that to resist her. Encounters focused solely on work offered security from temptation.
Sophie hurried down the steps, her pencil straight uniform skirt hitching higher up her leg. Her legs had driven him close to crazy during his stint in the witness stand. And when his eyes travel upward to the best set of curved hips in the free world?
A man could lose himself in her softness.
Her sun-streaked blonde hair was swept back into some kind of twist. Not for the first time, Dave imagined pulling out the pins and testing the silky texture sliding between his fingers. Her light hair contrasted with her golden glow, deep brown eyes, lightly tanned skin.
Tan lines.
Shit.
He knew the minute she saw him. Her gaze went from open to distant in a snap.
"Major Berg," she acknowledged before charging past.
Ego stinging, he watched her hips twitch in her brisk, twitchy walk as she left him in the dust. His whole body throbbed from viewing only two inches of skin above her knee, and she barely noticed him. He couldn't decide why her dismissal bothered him more than usual since he didn't plan to do anything about the attraction.
A good swift reality kick reminded him of his reason for seeking her out, and he resolved to take comfort from the chill of her greeting.
"Major," David called, catching her in three strides. "Wait a minute."
"I haven't got a minute." Sophie tossed the words over her shoulder without meeting his gaze.
"Make time."
She took two shorter, quick steps for his every long stride. "Call my secretary for an appointment."
"Hold on!" He gripped her arm and tugged her to a halt. "If I'd wanted an appointment, I wouldn't have spent the last hour waiting."
The combined force of her sudden stop and spin to face him brought them a whisper apart. The simple act of touching her for the first time sent blood surging well below the belt.
Down, boy.
Dave unclenched his hand, allowing himself a brief trail down Sophie's sleeve as he released her. A bubble of privacy wrapped around him as it had during the moment in the witness stand when she'd leaned a bit too close for a second past his comfort level.
A hint of uncertainty crossed her face before she stepped back. "This better be important."
"It is."
"You have exactly two minutes." She checked her watch, late day sun glinting off the face plate. "I'm late picking up my son."
He gestured toward the corner of the building, away from the crowd. "Let's step over here in the shade."
Following her, he almost cupped his hand to the middle of her back. Sophie stopped to face him just in time to prevent him from making that colossal mistake. Sophie Campbell was a J.A.G., an officer in the same Air Force he served. The Bronze Star on her uniform proved she was more than just someone sporting a bunch of "I Was There" ribbons. Right now, he wanted to know how she'd gotten that Bronze Star as much as he wanted to know the taste of her.
"One minute left, Major Berg."
Right. "We need to talk about your line of questioning upstairs."
"Do you have something to add to your testimony?"
"No."
"Then we have nothing to discuss." She moved to dart around him.
Dave braced a hand against a sprawling eucalyptus tree, blocking her escape. "I feel bad for that injured kid – Ricky – and for his family, too. Aside from how damn tragic the whole thing is, Professor Vasquez has got to be swamped with his son's medical bills. I'd like to help the kid win a hefty settlement, but I can't. You're on the wrong track."
"Major Berg–"
"Cut it out, Sophie. We're not in the courtroom." So much for keeping matters impersonal.
"This isn't accomplishing anything. If you have something concrete to discuss, come to my office and we can meet in a more … professional setting." Her gaze skittered away from his. "David, I really can't do this today."
He concurred on that point at least. "Am I supposed to wait around until you can fit me into your schedule?"
"I'll be in touch."
"No good. I don't feel much like playing tag-team with your voice mail."
Sophie watched undisguised frustration wrinkle David Berg's brow as he barricaded her exit. She needed to leave. Now. Rather than diminishing, the tingling she'd felt earlier had increased to something resembling a third-degree sunburn.
Much longer with him and she might launch herself at him like a sex-starved woman. Which, of course, she was, even if she hadn't realized it until an hour ago.
Sex. That's all it is, just a natural, physical reaction. After a nap and some ice cream, she would be fine. The reasonable explanation calmed her. As a normal, healthy woman, of course her body would inevitably react to enforced abstinence. She could push aside the unwanted attraction long enough to talk with him, for the good of her case.
"All right, I would like to go over a couple of points in the incident report. But, I honestly don't have time this afternoon."
David's hand pressed to the tree trunk brushed mere inches beside her cheek. His heat reached to her like a furnace blasting on an already hundred-plus degree day.
He shifted, his knee bent, his shoulders angling closer. "What if I meet you tomorrow for lunch?"
The offer tempted her. Hell, the man tempted her. She tried to focus on his tie instead of the flecks of steel in his blue eyes.
The rows and rows of tiny rectangular ribbons on his uniform jacket drew her eyes. An icy chill in her veins burned worse than the heat. How long before he too ended up cold and lifeless, like her husband, like her father?
She had no intention of waiting around to find out. "Your two minutes are up. Stop by my office after court tomorrow."
Sophie ducked under his arm in an attempt to escape his appeal.
Two cracks sounded.
David slammed into her, tackling her. Her briefcase flew from her grip.
Another pop. A gunshot? No time to question. Her head smacked the rocky earth, David Berg's body blanketing hers…
From Guardian, Berkley Sensation
Copyright Catherine Mann 2012