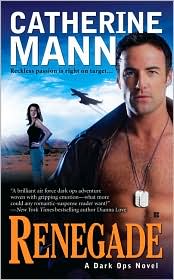 UNTAMED AND UNDERCOVER
Tech. Sgt. Mason "Smooth" Randolph lives to push boundaries—whether by bucking his wealthy family's expectations and joining the Air Force or by working outside the box on top secret flight projects.  But no way could he have anticipated how far outside the box he would land when an in-flight accident sends him parachuting into Nevada's notorious Area 51—and into the handcuffs of sexy security cop Jill Walczak.
As a member of a covert surveillance force, Jill is searching for a serial killer inside the Air Force—and the last thing she needs is some rebel aviator threatening her case.  But the smoky cloud Mason flew through during his parachute landing may have been toxic fallout from biochemical experiments—forcing Jill into quarantine with the reckless flyboy. Now, Jill has to keep her eye on Mason without getting distracted by the growing passion between them, before the assassin ends her investigation, permanently…
REVIEWS:
"When you read a Catherine Mann suspense book you can be sure you will get non stop action, nail biting suspense and heart stopping romance…This author has become an auto-buy for me!" –The Romance Studio, 5 Hearts!!
"This latest Dark Ops novel is sure to please… Mann proves once again she's a force to be reckoned with in the the military romance genre with an unexpected and compelling plot… her characters are incredible and the plot is fantastic." –Romantic Times BOOKclub Magazine
"The third Catherine Mann Black Ops romantic suspense (see Defender and Hotshot) is a terrific tale!" –Genre Go Round
"Grippingly dangerous scenarios entwine with earnest emotional moments to make RENEGADE not only riveting but also movingly profound… The danger, romance and humor in RENEGADE will captivate your imagination." –Cataromance Reviews
"I loved all of Ms. Mann's Dark Ops books and highly recommend that you check them out – sexy men that have rough edges, and can kick some serious butt are worth knowing and reading about often." –Twolips Reviews
"Perfect addition to the test pilot series." –Night Owl Reviews
"Catherine Mann's third book in the Dark Ops series is entertaining, pleasurable and suspenseful. One can't help falling in love with the characters. A great read!" –Fresh Fiction Reviews