posted on September 2, 2009 by Catherine Mann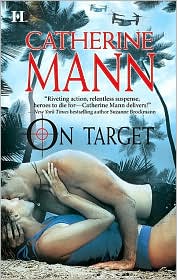 Over the Caribbean Sea: Present Day
"Blackbird 33, Blackbird 33, this is Sentry 20 reporting a pirate ship at your ten o'clock, twenty-eight miles."
Pirate ship? The improbable radio call from Sentry rattled around in flight engineer Shane "Vegas" O'Riley's headset as he manned his station of the CV-22 aircraft. He couldn't have heard what he thought.
Sure they were out over the wild and wooly Caribbean, but someone must be screwing with them. Air Force crewdogs were well known for their practical jokes.
Except today, he couldn't be any less in the mood for gags. This flight to deliver supplies served a dual purpose for him. He would make a stop at a tiny godforsaken island where his wife worked teaching in the latest needy village to cross her aid group's radar.
There, he would also hand over divorce papers for her to sign.
But back to these freaking pirates. Since the weather was dog crap, he was in charge of the radio while the two pilots had their hands full of bouncing airplane.
Shane thumbed the radio "transmit" key, sweat burning his eyes, his flight suit sticking to his shoulder blades in the unrelenting summer heat. No a/c could keep up. "Sentry did you say a pirate ship? Is Johnny Depp onboard with his swashbuckling costume? Do you want us to land this puppy on the poop deck and get his autograph for you?" Since the CV-22 took off and landed like a helicopter, then rotated the blades forward to fly like a plane, they actually could manage just such a feat if there were a pirate ship. "I'll tell him it's for your daughter if you're embarrassed."
The jerking craft jarred his teeth, hard, faster than the roller coaster ride he'd taken with his two daughters at Six Flags last summer.
In front of him sat the two pilots. Aircraft commander Postal gripped the wobbling stick while newbie to the CV-22 co-pilot Rodeo took wildly fluctuating system reads off the control panel. Shane glanced over his shoulder back into the belly of the craft to check on the three gunners – and yeah, thank God – they'd strapped their butts down tight.
Their radio crackled in the inclement weather, words sputtering through unevenly, "Pirates… guns at… cruise ship."
Some theme cruise perhaps? A pocket of turbulence whacked Shane's helmet against the overhead panel and rattled his brain worse than a baseball bat upside the temple. "I'm so not in the mood for this 'Argh' and 'Shiver me Timbers' garbage. We've got a weather emergency here."
"Sorry," the radio voice claiming to be Sentry 20 responded, "not yanking your chain, Blackbird 33. We have a message relay from Southern Command Headquarters. Ready to copy?"
Shane straightened in his seat. "Really? No joke?" he said, still only half believing. "We'll play along for the heck of it, ready to copy."
The radio crackled to life. "Blackbird 33, proceed to one-eight dash zero-five north, zero-six-three dash five-nine west to intercept a pirate vessel, suspected to be terrorists threatening a passenger cruise ship. You are ordered to disable the pirate boat," the connection went staticy for another two jostles, "or destroy the pirate's vessel, a cigarette boat, if you or the cruise ship are fired on. Copy?"
An order to shoot a cigarette boat that just happened to be tooling around in the water? This could be the worst kind of set-up for an ambush in such a lawless corner of the ocean. Unease prickled up Shane's spine as he could already see all his crewmembers' faces plastered across the six o'clock news.
That would be a helluva way to end his career and his marriage in one fell swoop. "Who is this?"
"Listen up, Blackbird," the voice barked back, "I authenticated the communication when I got it and I think you should do the same."
Well they got that right. "Rodeo, dig out the code book."
"Way ahead of you, Vegas. Here ya' go." The co-pilot's normally easy-going demeanor was nowhere to be found as he passed back the book before quickly returning to the controls. Rodeo had his hands full running both his co-pilot's position and checking Shane's flight engineer regular duties monitoring engine and aircraft health since he had to deal with this buccaneer BS.
Vegas thumbed through the pages until he found what he needed. "Sentry, authenticate foxtrot-mike."
"Sentry authenticates with zulu-tango."
"So, Sarge?" Rodeo's voice shot over the radio to tech Sergeant Shane O'Riley. "Is that correct?"
Holy crap. Shane verified it once, reread again. No movie star autographs in their future today. This was the real deal. "That is the correct response, sir."
The aircraft commander, Postal, cursed into the interphone. "Well spank my ass and get me an eye patch." Clicking over to radio to broadcast beyond the plane, "Good authentication, Sentry, we are headed that way… Rodeo, give me a–"
"Already on it," the copilot interrupted. He might be new to the craft but the man was a freaking genius, a quick thinker on his feet to boot. That worked well with a gut instinct player like Postal. "Come left to heading one-seven-seven. Showing time to intercept at eight minutes. Target is now twenty miles ahead."
"Copy all." Postal's normally wired façade faded at the very real threat ahead – a flipping terrorist pirate ship, no less. "Crew, lock and load, cleared to fire a burst. Let's make sure those babies are working in case we need them."
Brrrrrp. Brrrrrp. The sound of quick bursts from electrically powered mini-guns hammered through his helmet just before the smell of gunpowder drifted up to linger in the cockpit. The right gunner, left gunner, back gunner – Stones, Padre and Sandman – all checked in ready to go.
Both pilots looked out to the horizon searching for a sign of the boat. Shane kept his eyes forward, his thumb on the radio and tried not think about the divorce papers in his flight bag. There wasn't much to divvy up, not with Sherry living her life in one NGO tent after another. Most of her gear consisted of easy-to-pack toys for the kids while she left a few things back home.
His little girls. They were Sherry's, adopted during her first marriage – Cara from Vietnam and Malaika from the Sudan. And once the divorce went through he would lose all right to them. Ah hell. His throat clogged.
He wanted to settle down, have a real family life. Sherry insisted she was living a real life around the world and he was welcome to join them anytime.
Where the hell was the compromise in that?
His aircraft commander cranked the craft in a flawless bank. Postal's wild eyes stuck to the horizon, his hand on the stick. "Work that radar hard, Rodeo. Let me know when you've got a good bead on him."
"Roger that, start a right turn, shallow bank. Roll out. Straight ahead five miles."
The air grew heavier. Some might say with humidity, but Shane had been around, fought in enough conflicts to know that the minutes leading up to battle sucked emotions out of a person and pumped them into the air where they couldn't distract a man. Inside, he could stay emotionless. Six years he'd served, since he'd given up the early beginnings of his pro baseball career to enlist after 9-11.
He'd never regretted the decision. But both careers spoke to the core of who he was, a good old fashioned picket fence, baseball and apple pie family man. He thought he'd found that with Sherry and the girls. He wanted to be the big strong dude who built a home for his family and protected them.
And by protecting, he'd meant from burglars. Not freaking pirate ships and tribal warlords that attacked tent villages. What the hell was she thinking hauling the kids around to unruly corners of the world like this?
Postal leaned forward, the air getting a good pound or two heavier until he said… "Okay, I got 'em visual. Start a turn to go around them. It's a cigarette boat. Get the infrared cam on them and see what they look like."
Rodeo nodded, sweat glistening on his dark bronze skin. "Got a lock. Zooming cameras for confirmation… and ah hell, big guns on that boat. I would say the pirates."
Pirate Captain Jack Sparrow didn't have a speed boat like that.
The infrared screen display bloomed upward. Gunfire from the boat. Aimed at the CV-22. No more questioning how to respond.
Heaven help them. This was it. Open combat to the death.