posted on September 2, 2009 by Catherine Mann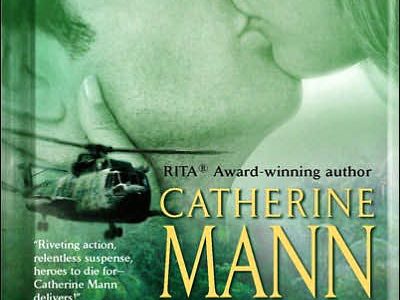 PROLOGUE
Baghdad, Iraq: nine months ago
"I don't think we should see each other anymore once we get back to the States."
His soon-to-be ex-girlfriend's rejection rattled around in Captain Bobby "Postal" Ruznick's head as loudly as the echo of worn out shock absorbers rattled along the dirt road. Dumped by a woman, in a crappy military bus, no less.
A first, but not a surprise.
He'd expected the heave-ho from Dr. Grace Marie Lanier – a profiler for the police when she wasn't called up for her Army Reservist duty – after their second date to a no-cover-charge bazaar festival in downtown Baghdad. Then she'd hung around for another date and he'd started to think maybe…
So yeah, this did sting a little after all. Not that he would let on and launch into some major discussion when he had bigger concerns.
Such as the off-kilter sense he was getting from the desert town landscape outside the gritty windows. This should have been a simple bus ride to his plane, wrapping up a two week quick gig in Baghdad. But then nothing around here ever turned out simple.
A Special Ops pilot, he had to trust his instincts or he could too easily end up taking the eternal dirt nap.
"Bobby, I know you're awake behind those sunglasses." Gracie's prissy tones contradicted her sultry, exotic scent. "Your boot's tapping so hard you're vibrating the floorboards worse than the potholes."
This didn't seem like an opportune moment to mention more than one woman had told him he twitched even in his sleep, so he kept listening to her ramble on like his third grade teacher spouting the benefits of Ritalin for settling his ass down. Except his junkie ma never made it to the parent/teacher conference. By the time he'd gone to live with his grandma, he'd figured out to avoid raisins, grapes and sugar. He'd learned to concentrate hard and process those eight ka-zillion stimuli catapulting his way all at once. He'd fast figured out how to pick which one demanded the bulk of his attention.
The newly erected placards scrolled in local dialect along the dusty road won, hands down.
"Really, Bobby, I don't want to drag this out. Certainly it will be awkward during the flight home, but after we land tomorrow morning, we'll never have to see each other again. I'll return to North Carolina, you can kick back on your Florida beach."
He grunted.
What else could he say? She was right. A shrink and a psycho really didn't make for much of a match.
He figured he'd been lucky to get three dates. But holy hell, then on date three she'd flattened her hand to his fly during a lip lock behind a Humvee a second before the "time to leave" call from fellow CV-22 pilot Joe "Face" Greco. Face's sucky timing had cost Bobby's one chance at Gracie. Sexy Gracie. Blond and busty and so smart he got off on the fact she couldn't string syllables together after their first kiss.
Now he wouldn't luck into a repeat.
Damn. Big time damn. And so not anything he could think about now because holy crap something wasn't right outside the grimy bus window. He couldn't read the messages spray painted on plywood, and likely no one on the bus could read Arabic either.
Might just be signs for homemade fig preserves or a "have you seen my lost goat?" Or it could be something else altogether – like a warning to locals.
Except these locals were in surprisingly scarce supply in the small village outside of Baghdad, not a kid in sight. He logged all textbook signs of an IED – improvised explosive device. The IED could be stored anywhere or strapped to anyone.
Inside the rusted out jeep on the side of the road.
Buried under that leaning palm tree.
Perhaps stuffed in that dead cow carcass rotting in a ditch.
Gracie shifted in her seat, plastic crackling. Her soft curves pressed against his side and threatened distraction, no matter how adept he was at multi-tasking. More of her sexy scent mingled in with the pervasive military bus smell – much like an old Boy Scout tent, not that he'd ever been a Boy Scout. However his buddy Face had, and vowed military gear carried the same musty stink.
Distracting thoughts whacked him from all sides. Shit. He was better than that now. Concentrate, and do not let emotions slither through to remind him how hell could explode in seconds.
"Bobby, you're a talented pilot and even a, uh, fascinating man. But we're just too different. That whole 'opposites attract' cliché is true, but not always healthy."
"Uh, huh." He shoved to his feet. Fascinating? Cool. He would process that later for sure. But first– "'Scuse me."
"Where are you going?"
Her faint question tickled at the edges of his narrowing focus. He braced a hand on the back of a seat as he walked, then another seat, left, right, making his way up the aisle with slow deliberation while assessing that cow carcass in the ditch as the already creeping bus slowed at an intersection.
Plenty of carcasses decayed around this place for days, but that bovine gut offered plenty of room to hide a bomb. He suppressed nightmarish images of other IEDs strapped to women and children. His brain flashed with memories of bombs tucked beneath murdered American soldiers waiting to be retrieved and honored for their sacrifice. Instead their dead bodies in the field were rigged to a device and used as a tool by the enemy to blow up more Americans.
His gaze skipped ahead to the camo-wearing driver. The dude wasn't an Iraqi National since they didn't hire locals to drive buses. The burly guy was an Army reservist like Gracie. Trustworthy.
But everyone was edgy and, well, Bobby had a rep for acting irrationally. This uptight Sarge driving the rattletrap bus already thought he was a loose canon.
Usually they were t-totally correct. Just not today.
Still there wasn't time for chitchat. Discussion would cost valuable minutes and he needed to get up front. Fast. Sprinting would get him tackled by any of the Army dudes packing the seats, rifles on their laps.
Of course a rifle didn't deliver much of a wallop against an IED. He made his way forward.
Slow. Steady. Focused. Almost there.
A hand snaked out, grabbing his elbow. Bobby resisted the impulse to draw back a fist – thank God, since the hand was attached to his crewdog buddy, Joe "Face" Greco who so wouldn't take well to a fist fight. "What are you gonna do, Postal, get off and walk? Sit down and catch some sleep. We've got a long flight ahead of us. Listen, cheap ass, I seriously doubt the driver has any complimentary pretzel packs and a soda cart."
Postal's parsimonious ways were legendary.
Bobby nodded toward the empty seats up front, let Face assume whatever he wanted and kept on walking. Past "Vegas," a family man with kids.
Sandman, Padre and Stones, each of those gunners was a crew member with helmet bags and rifles of their own. His brothers-in-arms who didn't deserve to be blown to hell by a terrorist IED coated with cow guts. Nobody deserved that.
After dodging countless bullets on the street as a kid and even more bullets as an adult in war zones, he figured he was already living on borrowed time. Better to go down in a blaze of glory than let those bastards hurt a busload of innocents. Like Gracie, who yeah, was always a little too perfect to hang out with a messed up, adrenaline junky like him anyway.
And if he was wrong about the IED? Well, they would just have another reason to laugh and call him Nucking Futz Postal.
Bobby stopped beside the driver. Focus. Adrenaline surge. Act.
He grabbed the wheel before the Army sergeant could do more than look up.
Bobby jerked the wheel left. Hurtled the bus off the road amid hollering from the back. The rear mirror showed slinging bodies too busy righting themselves to overtake him.
Excellent.
He slammed against the seat, clenched his hand around the steering wheel. The driver's shouts were lost in the…
Boom.
The explosion behind them rocked the earth, drowned out words, but not the hoarse shouts. The rearview mirror filled with the image of flames splitting the road behind them, exactly where they would have driven.
Hands locked, he guided the wheel, plowed the bus through a piece-of-shit barn on the city outskirts. Chickens squawked and scattered.
The bus blasted out the other side of the ramshackle barn, into a ditch and up onto the road again. Safely. Although new shock absorbers were definitely no longer optional.
At least they were safe, and Baghdad International waited ahead in the stretch of desert.
Heated nerves chilled, settling in the stunned silence surrounding him. Sweat sealed his flight suit to his body, but more from the temp than from any stress because he'd always known he would succeed.
Well, he'd been pretty sure.
He nodded to the driver. "Here ya go, Scooter. All yours again. But I'm thinking we need to get the hell out of here ASAP."
Bobby released the wheel and pivoted away. The swaying bus lurched under his feet before steadying again as the rows of passengers gawked and whispered.
Left hand on a seat, right, left, he made his way back down the narrow aisle.
Joe Greco shook his head and clapped him on the shoulder. "Thank you, crazy ass bastard."
That he was.
Gracie stared back at him with eyes wide. Wary. Confused. But mostly wary.
Yeah, he was definitely too close to the edge for Dr. Uptight. That pissed him off, which was better than regretting the fact he would never get naked with gorgeous Gracie.
Without a word, he plunked in his seat, slouching. Boot bouncing a never ending restless rhythm, he settled in for a few minutes' powernap before their flight out of this shithole and out of Dr. Gracie Marie Lanier's perfect world. She balanced it all, profiler for the cops, then racing to do her duty when called to her Army reservist psy-ops job. All that and hot as all get out. Shee-it.
As still as she sat, Gracie fidgeted causing too many damned tempting brushes of those lush breasts of hers against his arm.
With a final huff, she stilled. "Well, Bobby, you sure picked a hell of a way to avoid our farewell conversation."