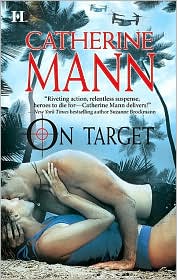 On his way to deliver divorce papers to his soon-to-be-ex, a terrorist attack put Air Force Sgt. Shane "Vegas" O'Riley back into soldier mode.  His wife and her two adopted children were in danger. He didn't give a damn if she wanted him out of their lives…they were under his full-time protection now.
Being back with her husband had Sherry in an upheaval.  She still wanted Shane. Yet she was afraid obligation was the only reason he was sticking close. With a terrorist targeting their lives, Shane was all she had to hold onto.
Danger lurked close to home. But it was a marriage that had to survive the ultimate battle.
Reviews
"Catherine Mann's picture must be in the dictionary next to 'superb.' Military romance fans rejoice!"
–New York Times Bestseller Suzanne Brockmann
"HOT! This action packed, suspenseful military story has two romances, and the secondary one is just as good as the main one!"
–Romantic Times BOOKclub
"Catherine Mann does it again! This book hits you hard and fast and never lets you come up for air… Ms. Mann combines suspense, romance, and heart stopping action to create a book that will stick with you long past The End."
–Romance Junkies Reviews
"ON TARGET is an exhilarating military romantic suspense thriller that never slows down…"
–Book Crossing Reviews
"ON TARGET is memorably outstanding in every aspect!"
–Cataromance Reviews
"… a great book…. It's a keeper for me."
–A Romance Review
"Nothing like the threat of danger to bring out the alpha tough-guy within! Catherine Mann's… always delightful."
–Rendezvous Bookstore Reviews