Love Bites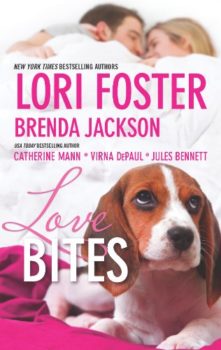 February 26, 2013
e-Book
Five of today's hottest romance authors unleash the passionate thrills of new love in one sizzling original collection.
Two neighbors secretly yearn to get a whole lot closer. An adult hotline operator meets a man straight out of her private fantasies. A lonely crisis counselor falls for a hunky officer with troubles of his own. A woman fights to save her farm from the contractor who inherited it. And an airman dreams of putting down roots, but his pen pal longs to spread her wings. Some people need an extra nudge to get to happily-ever-after, but the sparks will fly for these couples with a little bit of help from man's—and woman's—best friend.
The authors are donating all of their proceeds from Love Bites to the Animal Adoption Foundation of Hamilton, Ohio, a charitable organization.