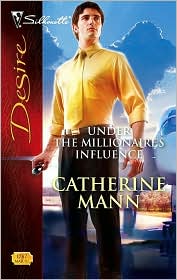 How could she deny him anything?
Dashing. Devastating. Dangerous. David Reis exuded power with every move of his custom-suited body. He'd been the fantasy of Starr Cimino's teenage dreams… her first lover, her biggest heartbreak. And now that he's back, she didn't dare fall under his influence again.
But David was not about to call a truce. He was determined to have Starr back in his bed and planed a seduction no woman could resist.
Reviews
"In Catherine Mann's capable hands, UNDER THE MILLIONAIRE'S INFLUENCE is a charming, amusing page-turner."
–Romantic Times BOOKclub Reviews
"Catherine Mann rocks the world of romance with this emotionally packed novel… This book is like a cozy blanket and a cup of hot chocolate on a freezing day—it'll make you feel good all over."
–Romance Junkies Reviews
"UNDER THE MILLIONAIRE'S INFLUENCE is a perfect romance for lazy afternoon… Catherine Mann has become one of my favorite Harlequin/Silhouette authors with books that are rich in emotion, sensually satisfying and with just enough action to keep me turning the pages."
–Joyfully Reviewed
"With her expressively moving voice, Catherine Mann has penned a story filled with intense emotion. Her ability to portray characters in a believable manner is unsurpassed, and her talent is evident on every page of this noteworthy book. UNDER THE MILLIONAIRE'S INFLUENCE captures the true meaning of love, conveying it in a powerfully emotional way."
–Cataromance Reviews
"A romance that's kept kindled through the years finally bursts into flames. Catherine Mann once again provides readers with a tale that is both heartwarming and emotional."
–Romance Reviews Today