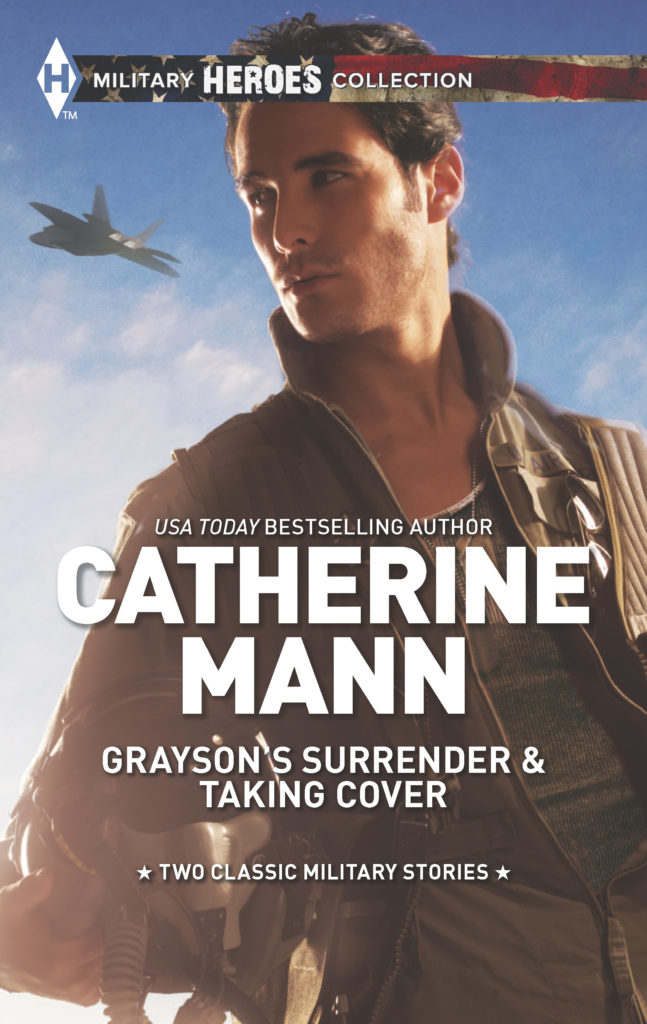 Books 1 & 2 that launched the Wingmen Warriors!
GRAYSON'S SURRENDER: Flight Surgeon Grayson Clark and NGO worker Lori Rutledge shared a passionate summer full of promise and ultimately heartbreak. After his turbulent childhood, Grayson knows well he's ill-equipped to offer Lori the security she craves. But Grayson can't escape Lori's allure when they're paired on a military rescue operation to an overseas orphanage. When one heart-tugging orphan charms her way into Lori's life and Grayson's heart, Lori and Grayson discover a new understanding of family – and a free-falling surrender to love.
TAKING COVER: Battle lines are drawn when Flight Surgeon Kathleen O'Connell temporarily grounds Captain Tanner Bennett from flying combat. No way does Tanner plan to watch his crew from the sidelines. Not that he has a choice, thanks to by-the-rules Kathleen and his ground duty assignment to investigate a crash. When Kathleen is teamed with him in the investigation, they're both diving for cover as they battle an attraction ready to detonate!
****
For the digital version coming in June: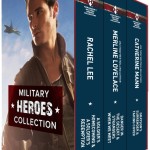 Only $3.99 special digital deal! 6 full length novels by Rachel Lee, Merline Lovelace, & Catherine Mann in the Military Heroes Collection
Click FMI to order: Amazon    Barnes & Noble   Kobo  ($3.99 Kindle price. Nook & Kobo prices vary.)
REVIEWS:
"This is Grade 'A' writing at it's finest." –Escape to Romance
"Catherine Mann is a shining star with her Wingman Warriors … right up there with Suzanne Brockmann and Lindsay McKenna!" –Reader To Reader Reviews
"Catherine Mann is a major talent…Don't miss out on her first books and the start of a series that will have romance readers enthuse over a bright new star. " –A Romance Review
"Catherine Mann's first novel in the "Wingmen Warriors" is a must-read … written with sophistication, vitality and depth." –The Best Reviews
"Catherine Mann has masterfully created very real characters and placed them in a deeply emotional conflict in GRAYSON'S SURRENDER, a warm story about the birth of a family." –Romantic Times 4 stars
"Hot damn! The Air Force is flying into town on the wings of Catherine Mann's fabulous new series, Wingmen Warriors… Get ready to lose your hearts to these men who pack a powerful punch to your emotions." –Reader To Reader Reviews
"A powerfully told tale that all readers will treasure, GRAYSON'S SURRENDER comes very highly recommended." –Word Weaving
The launch of the Wingmen Warriors series, GRAYSON'S SURRENDER starts off with rip-roaring vivacity and ends with an entirely satisfying conclusion, complete with emotionally touching pages in between. –Romance Reviews Today
"Catherine Mann's impeccable knack for creating explosive situations, passionate encounters and combining them in the fascinating military world make her an author that you will not want to miss!" –The Romance Reader's Connection
"Grab it up as fast as you can because it's a keeper." –Escape to Romance Reviews
"A dangerous mission and a passionate romance! TAKING COVER is a worthy addition to Ms. Mann's series and one that I thoroughly enjoyed." –The Word on Romance
"For an exciting book with true-to-life characterization, TAKING COVER is an experience not to be missed!" –Romance Reviews Today