posted on September 2, 2009 by Catherine Mann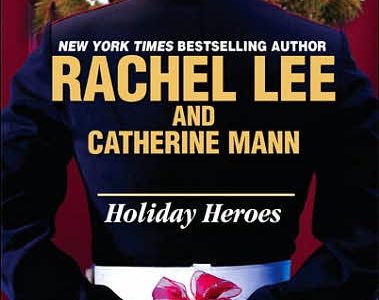 Chapter One
General Hank Renshaw hadn't often seen a man's hand down the bra of esteemed congresswoman Ginger Landis.
Of course, as he stood astounded in the doorway of the VIP lounge in the tiny airport on the Bavarian border, he couldn't recall a time he'd ever seen his long-time friend Ginger's underwear at all. Much less with a man's hand slipped inside.
Hank slammed the door closed so nobody else would snag a view of what now filled his eyes.
Technically, the security fellow wasn't groping around inside her satiny camisole thing. Ginger had taken off the jacket to her Christmas red power suit so the reedy guy in a black jacket could outfit her with the latest listening device for her upcoming meeting with the German Chancellor and Minister of Arts as well as the Vice-Chancellor of neighboring Kasov. All a part of a holiday goodwill trip across Europe , ending on Christmas Eve at a medieval castle with chapel ruins set to be rebuilt. Ginger would be donating an heirloom from her family's antique art collection, a small but priceless porcelain crèche.
Hank's role? To stand at her side as her official military escort. Unofficially, he was here to protect her. The final wall of defense between her and the threats that had been made on her life. Those threats were the very reason for the heightened security with a listening device.
Arms extended, Ginger stood in spike heels, legs to kill in a pencil thin skirt and satin camisole trimmed in lace.
His midnight dreams about this woman played out much like this – with him standing beside her, of course. He would stretch her out on that frou-frou creamy chaise behind her.
But only in dreams when he tossed off the restraints of waking hours did he allow himself to fall victim to fantasies about his pal of over twenty-five years. He was a red-blooded man, after all, and age hadn't diminished Ginger's appeal in the least. Which could also have something to do with the genius brain she packed underneath that head of perfectly styled platinum blonde hair.
Still, never had he done anything to put their friendship at risk by relaying the attraction.
Then he realized the silence had gone on too long to be anything but freaking awkward, and his slack-jawed look could very well put a chink in their all-important friendship.
"Sorry, Senator Landis." Hank used her official title in deference to the security personnel present – and out of a need to put some distance back into their relationship. "I hadn't realized you weren't ready yet. I'll just step outside."
Outside. A fine place for him to stand guard anyway, while he sweated his way through images of her wearing red hot lingerie. This would be a very long day.
He twisted the doorknob behind him.
Ginger waved a manicured hand through the air, white tips of her nails fluttering. "Oh, hell, Hank. Quit with all that formal Madame stuff. We're not at a press conference."
She had a point. Still he couldn't help thinking he would be safer standing guard in the airport corridor by the decorated tree getting his head on straight again. "Ginger, I'll wait in the hall by the door until you're ready."
"Hold on. Get out from under that mistletoe and come over here. See if you can clip this microphone on right so I'm not trailing tiny computer bits out of my skirt," her South Carolina drawl curled through the cloud of unease. "This poor secret service fellow's so worried about copping a feel he can't get the damn thing secured to save his soul."
The young security agent must have been all of seventeen – okay, twenty-seven. They just looked like babies when you'd hit fifty-five.
The kid didn't help matters by blushing to the roots of his Idaho farm boy red hair. "Senator Landis, I apologize. These new listening devices have a tricky clasp, but they're far less visible."
Ginger cocked a delicately arched brow. "Well, I wanted to use those fancy teeny tiny ones that fit in the ear canal, but all this flying gave me a double ear infection."
She smoothed a hand over her blond hair away from afore mentioned ailing ear. The simple gesture hitched her camisole up to expose a tiny strip of stomach when Hank was already reeling from the surprise of seeing his old friend in a new light. Hank blinked his way through the fog and focused on her words. She'd mentioned being sick? Concern slammed away everything else.
He charged deeper into the room, the plush carpet muting his frustrated footsteps to dull thuds. "Are you sure you're up to this trip? They've packed in more stops on this goodwill tour than there are waking hours in the day."
"I'm fine. The antibiotic's kicked in. My ears are just a little sensitive."
Relief rocked through him as the secret service agent stepped away from her, giving Hank a clear path. Yeah, he knew he was a little over protective of women. His daughters labeled him an alarmist when it came to illnesses. Send a bullet or mortar his way and he could stand firm without flinching. But ailments of the body still made him break out in a cold sweat since he'd lost his wife to a fluke aneurysm twenty-four years ago, leaving him with three children to bring up.
He didn't know how he would have made it through without Ginger's help. He'd tried to help her as well when her Senator husband had died ten years ago in a car crash, leaving her with four strapping boys. She and Hank had pooled resources when they could.
He blinked through thoughts of the past, their past, their friendship. Anything to keep himself from focusing overlong on the fact that his fingers were now inches away from Ginger's chest…