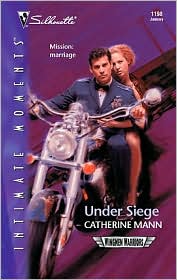 To the Air Force, Lt. Col. Zach Dawson was a dress blue bona fide hero, complete with medals and behind-enemy-lines battle scars. But a hero didn't allow an airman's pregnant wife to become a widow on his watch. And a hero didn't command combat squadrons yet lack control over two daughters desperately in need of maternal love.
To heck with heroes. Zach the man and father knew exactly what needed to happen. Julia Sinclair would become his bride-of-convenience, her baby and his girls gaining a parent in the bargain. But having Julia under his roof put Zach's reputed restraint under siege. Because honoring their hands-off, no-hearts arrangement was a mission he simply couldn't accomplish…
Reviews
"Catherine Mann is venturing up there on the list with the likes of Suz Brockmann and Rachel Lee in the military category and with Dinah McCall in the overall good author department."
–Escape to Romance Reviews
"A remarkable read that belongs on the keeper shelf, UNDER SEIGE earns the WordWeaving Award for Excellence."
–Word Weaving
"From page one to the very last, this latest addition to Catherine Mann's increasingly popular 'Wingmen Warrior' series is thoroughly engrossing. .. Smart characterization with realistic conflict in UNDER SIEGE is only the beginning of an excellent book. "
–Romance Reviews Today
"UNDER SIEGE delivers sensitive writing and storytelling from the heart … familiarize yourself with the awe-inspiring series."
–A Romance Review 5 roses!!
"With this latest addition to one of the best new mini-series by Silhouette Intimate Moments, Ms. Mann continues to establish herself as an author of immense talent."
–The Word on Romance
"Holy Cow! I'm in total meltdown after reading UNDER SIEGE. These Wingman Warriors are awesome."
–Reader-to-Reader Reviews
"This romantic and moving tale is a must for fans of military men…and awesome love stories!"
–Romance and Friends
"Catherine Mann shines once again in UNDER SIEGE, the newest installment in her Wingmen Warriors series."
–Romantic Times Magazine
4 stars
"Troubled characters, each having their own personal burdens, are brilliantly created through tense situations and frank dialogue … UNDER SIEGE is by far Catherine Mann at her finest! "
–The Romance Reader's Connection
4 1/2 stars
"Readers' hearts will soon be under siege in this highly emotional tale about military widow … Catherine Mann continues to grow as a prominent SIM author, with UNDER SIEGE (Jan. 2003), Book #3 in her Air Force "Wingmen Warriors" series. "
–Rouse's Romance Readers' Groups
"….romantic tension makes an intriguing read as the air sizzles between the hero and heroine."
–The Road to Romance
"Wingmen Warriors fans won't want to miss it!"
–The Best Reviews