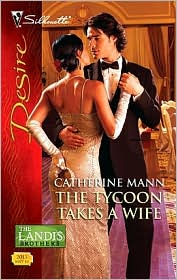 "Landis Brothers" series concludes with TYCOON TAKES A WIFE
I Now Pronounce You… Still Married!
It had been a mistake… at least for Jonah Landis' new bride. She'd left him the morning after their whirlwind wedding. And he'd never forgiven her. As quickly as they had once exchanged rings, Jonah filed for an annulment and vowed to put memories of Eloisa behind him. But a year later, due to a technicality, it seemed the millionaire was still a married man. Eloisa had lied about many things, and now he finally had the ammunition to unravel it all. If his "wife" wanted out of this marriage, she was going to give him the answers he still needed… and the honeymoon he still craved.
REVIEWS:
"Catherine Mann proves once more in THE TYCOON TAKES A WIFE that she knows how to create drool-worthy men and believable situations… Don't miss another minute without enjoying this enthralling read." –Romance Reviews Today
"The remarkable storytelling talent of Catherine Mann has created a compellingly touching romance… THE TYCOON TAKES A WIFE is memorably engaging with appealing characters and a rousing love story brimming with sincere emotions." –Cataromance Reviews
"Ranging from funny to sweet, sexy to practical, Jonah and Eloisa are a delightful couple in a steamy romance." –Romantic Times BOOKclub