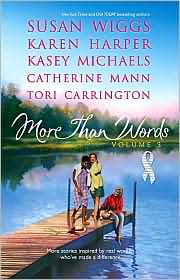 Introducing the third annual More Than Words anthology
Five bestselling authors
Five real-life heroines
They're your neighbors, your aunts, your sisters and your best friends. They're women across North America committed to reaching out and changing lives, one good deed at a time. Five of these exceptional women have been selected as this year's recipients of Harlequin's More Than Words Award. And once again five award-winning bestselling authors have kindly offered their creativity to write original short stories inspired by these real-life heroines.
Because of this year's recipients' dedication, thousands of tiny babies born into poverty are going home from the hospital wearing warm, hand-knit clothing. Prisoners are raising pups to keep people safe and be loyal guide dogs. Special-needs kids finally have a sports league to call their own. Cancer survivors enjoy a week of relaxation and rejuvenation nestled in Canada's stunning cottage country. And high-quality, low-cost children's books in Braille are finding their way to the thousands of children who need them.
We hope More Than Words will touch your heart and inspire the heroine living inside you.
Thank you. Proceeds from the sale of this book will be reinvested into the Harlequin More Than Words program to support the causes that are of concern to women.
Reviews
"Read it and then share it. It's a truly inspirational and remarkable anthology…"
–Romance Reader at Heart Reviews