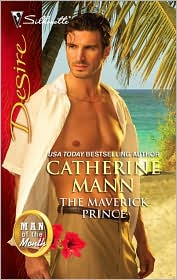 The "Rich, Rugged and Royal" series begins with THE MAVERICK PRINCE….
Mr. November: Antonio Medina, Stetson-clad royalty
His Past: Living without royal constraints.
His Present: Dealing with the results of his ruse.
The world knew him only as a Texas shipping magnate, lover of the finer things in life…including Shannon Crawford. But when Tony Medina's true identity was splashed across the tabloids, he could no longer hide his royal heritage. Despite his lover's furious reaction to the news, Tony had no choice but to whisk her away to his secret island retreat. He claimed he was simply guarding Shannon from the paparazzi. But Tony's true goal was to win her back…by any means necessary.
Rich, Rugged and Royal: A family of secret aristocrats used to getting what they want. And they want it now!
"Rich, Rugged and Royal" series:
THE MAVERICK PRINCE, November 2010
HIS THIRTY-DAY FIANCEE, January 2011
HIS HEIR, HER HONOR, March 2011
REVIEWS:
"THE MAVERICK PRINCE is set against the backdrop of an isolated, lush island off Florida, and the smoldering chemistry between Shannon and Tony cannot be denied. Their story will captivate readers just as it did me." –Romance Reviews Today