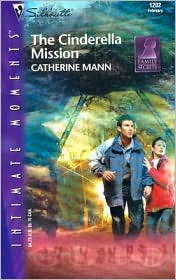 Millionaire Ethan Williams risks his life daily as a CIA agent to save innocent lives. And they don't come any more innocent than Kelly Taylor, his longtime friend and new partner on a mission to intercept jewel thieves with information on the whereabouts of a missing agent. Ethan has his doubts about working with Kelly until he watches her, the sweet girl next door, transform herself into a seductive siren capable of conquering any man she wants – and she wants Ethan.
But this mission means more than finding a missing agent. Ethan has spent his life searching for his parents' killers, but the answers are closer than he thinks. In a dangerous gamble, Ethan must choose: Would he rather fulfill his need to know his past, or protect Kelly, the woman who could be his future?
Books in the "Family Secrets" series
Silhouette Intimate Moments Prequels:
THE CINDERELLA MISSION by Catherine Mann, Feb 03
THE PHOENIX ENCOUNTER by Linda Castillo, March 03
THE IMPOSSIBLE ALLIANCE by Candace Irvin, April 03
Silhouette Anthology:
BROKEN SILENCE May 03
THE INVISIBLE VIRGIN by Maggie Shayne
A MATTER OF DUTY by Eileen Wilks
INVITING TROUBLE by Anne Marie Winston
Silhouette Single Titles:
ENEMY MIND by Maggie Shayne, June 03
PYRAMID OF LIES by Anne Marie Winston, July 03
THE PLAYER by Evelyn Vaughn, Aug 03
THE BLUEWATER AFFAIR by Cindy Gerard, Sept 03
HER BEAUTIFUL ASSASSIN by Virginia Kantra, Oct 03
A VERDICT OF LOVE by Jenna Mills, Nov 03
BILLIONAIRE DRIFTER by Beverly Bird, Dec 03
FEVER by Linda Winstead Jones, Jan 04
BLIND ATTRACTION by Myrna Mackenzie, Feb 04
THE PARKER PROJECT by Joan Elliot Pickart, March 04
THE ONE THAT GOT AWAY by Ingrid Weaver, April 04
CHECKMATE by Beverly Barton, May 04
Silhouette direct:
RIPPLE EFFECT by Vickie Taylor, June 04
UNCHARTED WATERS by Linda Castillo July 04
CLOSE QUARTERS by Judith Lyons, Aug 04
RACING HEARTS by Lilian Darcy, Sept 04
Reviews
"Catherine Mann creates real and relatable characters in THE CINDERELLA MISSION, a truly engaging and memorable read."
–Romantic Times
4 1/2 stars Top Pick
"One of the best books I have read…The crisp dialogue and emotionally charged sexual tension mingles perfectly with danger and mystery."
–Romance Reviews Today
Perfect 10!
"Satisfying and addictive! I can't wait for Ms Mann's next release!"
–A Romance Review
5 Roses
"Ms. Mann has written a book with an amazing blend of action, drama and romance."
–In the Library Reviews
"Catherine Mann delivers a gripping tale of adventure, romance and suspense in THE CINDERELLA MISSION."
–Escape to Romance
"Ms. Mann does a wonderful job of balancing adventure with romance in this story of desire and passion."
–The Word on Romance
"A great introduction to this new series that has me anxious to read what happens next!"
-The Best Reviews
"Catherine Mann does it again! If you have not placed her at the top of your auto-buy lists, you really should reorganize your lists."
–The Romance Reader's Connection
4 ½ plugs