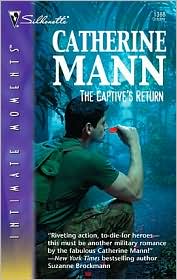 Five years ago, Lieutenant Colonel Lucas Quade had watched his wife of mere moments die. Forced to flee from a war-torn country, he'd had to leave her body behind. The guilt had nearly consumed him.
Five years ago, Sarafina Quade's death had been faked. Forced to live under the protection of a "family friend", she'd agreed in order to protect Lucas's baby. The hope of eventual freedom had kept her alive.
Now fate had brought husband and wife face-to-face. On a dangerous trek through the jungle a man would learn he was a father, a woman would learn her past was a lie and a child might finally have the family she always craved. If they survived the journey.
Reviews
"Adrenaline pumping suspense, heart-wrenching love scenes, and wittily accurate dialogue make this one book not to miss."
–Romance Junkies
"…suspenseful, emotional story that is fast-paced, keeping the reader turning those pages."
–Romantic Time BOOKclub
"THE CAPTIVE'S RETURN has a brilliantly developed plot, where the characters are engaging and the suspense inspires chills."
–Cataromance Reviews
"I have read every book in the Wingman Warrior's series and thoroughly enjoyed them. The Captive's Return is no exception!"
–JoyfullyReviewed.com
"In military series romance, Catherine Mann can't be beat and her latest THE CAPTIVE'S RETURN will captivate readers' hearts!"
–Patricia Rouse, Rouse's Romance Readers Groups
"The talented author amazed me yet again in THE CAPTIVE'S RETURN… descriptive scenery, sexual tension on high, engaging dialogue, and fascinating characterization…"
–Romance Reviews Today