posted on January 3, 2010 by Catherine Mann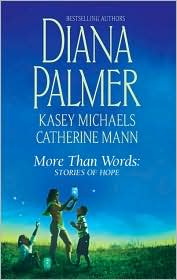 Chapter One
Librarian Anna Bonneau was well on her way to landing in the pokey. And that's exactly where she wanted to be.
Handcuffed to a park bench in protest all afternoon while reading hadn't been a great hardship since books were her life. However waiting for the police to take notice was starting to give her fanny fatigue.
Finally, a cop cruiser squealed to a stop by the curb.
She should have realized they wouldn't actually have a problem with her sit-down protest until closing time – five p.m. The recreation area was empty but for autumn trees awash with colors, swings twisting in the wind by Lake Huron , the place her mother had taken her for tea parties.
Losing her mother at twelve had been the most difficult time in her life, and this park represented a living tribute to the warm woman whose time on earth had been cut short by a car accident. Her father – a local retired judge – had tried to continue the picnic tradition, but their differences in opinion during her teenage years made things difficult.
All in the past. Now, Anna did her best to focus on her book while keeping a peripheral check on the police officer stretching out of his cruiser. Finally, progress in her cause.
She'd always wanted to be a librarian. However, landing a job in her sleepy hometown of Oscoda , Michigan was a dream come true. She'd waited three years working in a library in the Detroit area for this position to come open.
Two weeks from now, she would start her job. And not a chance did she plan to let the short-sighted members of the town planning commission rip up this park to plop a "Gentlemen's Club" restaurant and bar right beside her library.
She shifted her numb tush off the metal bench growing cooler by the second in the autumn temps, all the while keeping her eyes firmly focused on rereading a Suzanne Brockmann reissue. Yes, Anna adored her romance novels as much as the long ago classics.
A scream pierced the air. A child.
Anna jolted up from her seat only to be yanked back down by the handcuff – ouch. Her book fell to the ground as she took in the sight of a parked truck and second male carrying a kid gaining ground on the police officer. She peeked around a tree, angling for a better view. Howling shrieks echoed, closer, fuller, tugging at her heart until she saw someone she'd hoped never to lay eyes on again after he had broken her heart in high school.
Forest Jameson.
As he crossed the lawn toward her, Anna's tummy back flipped as it had when she'd first seen him bat one over the fence on the baseball field. He was a hunk, no doubt, however too uptight back during their teenage dating days. She'd heard he'd returned about four months ago to set up a legal practice, but she hadn't seen him since her return a week ago.
Why was he at the park, and why was he hauling along a child? They could be here to play – not that the kid sounded happy. More likely, Forest was here because her father, his long ago mentor, had called and asked him to save her numb tush.
The cop, old Officer Smitty, stopped short of her bench. Closely following, Forest Jameson juggled the boy, a briefcase and a tote bag stuffed with toys dangling from his shoulder.
"Anna." He nodded a greeting. "You still look the same."
She wasn't sure how to take that and before she could answer, he'd turned back to the child.
Forest jostled the wailing, magenta-faced kid wearing sunglasses. "Hang on, Joey. Just a few minutes and we'll be through here. I promise, son."
A son? Her eyes zipped to Forest's ring finger. Bare. She didn't want to think about the relief.
Forest met her gaze. "Divorced and the nanny quit."
His tight lipped answer engendered sympathy along with embarrassment over being caught checking.
Forest strode over to the cop. "I'm here to represent the interests of Miss Bonneau."
Well sheesh. Wasn't that convenient? "Uh, hello? Miss Bonneau has something to say about that."
The child – around four, maybe? – arched his back, pumping his feet. "I want to go home!"
"Well, you're going anywhere if you don't settle down." Forest's unwavering parental tone of calmly stated boundaries was betrayed by his harried composure.
Officer Smitty jumped in with the universal key and unlocked the handcuffs confining her to the bench. "H'lo Miss Bonneau. How about you take care of this little stinker and I'll have a conversation with the lawyer?"
Click. The handcuffs fell away, ending her latest protest and there wasn't a thing she could do about it. Maybe she would ride this one out and see what Forest had to say – in the interest of being entertained. Right?
She snagged her book from the ground, placed it on the bench and reached for little Joey. He didn't even loosen the lock hold on his dad's neck. Single parent Forest was clearly overwhelmed.
Hmmm. It seemed she needed to bail him out as well and clearly the men would talk more if they thought she was out of the way. She may have wanted her standard quick stop in jail, but her father said Forest never lost his cases so she would simply stay near enough to listen until she came up with plan B.
And the kid surely was a heart-tugger. "Could I take him for you while you work your attorney magic?"
Forest hesitated, which irked her to no end. Finally, he nodded and eased the boy's arms from around his neck, speaking the whole time. "It's okay, son. This is Miss Anna. She's going to play with you while I talk business. Okay?"
Joey hiccupped. "Kay." His chocolate colored curls stuck to his head with tantrum-induced sweat. "Can I go swing?"
Of course. He passed Joey over. "Anna? You're sure you don't mind?"
If he'd been surprised that she guessed his reason for showing up, he sure didn't show it.
"Not at all."
She took the child, a solid weight. The scent of baby shampoo and sweat soothed her with the sweet innocence of childhood. Gracious, he was cute in his striped overalls, conductor's cap and Thomas the Train sunglasses.
Forest opened his mouth as if to speak further, but Anna turned away. Her nerves were on edge and resisting the temptation to stare at the grown up Forest was almost irresistible. His gentleness with the child could well draw her, just as it had when she'd seen him volunteering with little leaguers in high school.
She headed toward the swings offering soothing words both for herself and Joey.
"Can you sit in the swing and hold me, please?" Joey asked.
"Of course, sweetie."
This was easier than she thought. She could hold the child, keep him happy and listen to the two men decide her fate as if she wasn't even there. Grrr. She tickled Joey's chin with the tail of her braid until he chortled. His cool guy sunglasses the cutest little things she'd ever seen.
Unable to resist gloating since that usually riled Counselor Uptight in the past, Anna glanced past Joey to his father. Bummer. Forest hadn't even noticed. He was too busy unloading baby gear. As he placed the toy bag and briefcase on the bench, his suit coat gaped open to reveal a broad chest covered by his crisp white shirt. She swallowed hard.
He whipped off his steel rimmed glasses and snatched a tissue from the briefcase to clean away evening mist. Anna's breath hitched. Forest's blue eyes glittered like a shaken bottle of soda water. Wasn't she supposed to be the one who delivered surprises?
Darn it, she wouldn't let him trounce her heart again the way he had when he left town without so much as a farewell.
"Miss Anna, higher!" Joey squealed, yanking her braid. "Miss Anna, want to swing higher."
She blinked twice to clear her mind. Joey's tug helped. The kid had the strength of a fifth grader. She welcomed the wake-up call.
Why couldn't her father understand she believed in justice as strongly as he did? She merely approached it from a different angle with her protests she'd been organizing since passing a petition in the second grade for new monkey bars on the playground.
Forest finished his discussion with Smitty and the older cop ambled off to his patrol car. Forest strode toward her with determined steps and held his arms out for his son, tapping the boy on the shoulder. "Time to go, Joey."
The little fella pivoted in her lap and launched at his dad with obvious affection. This time, however, he squirmed down to walk, holding his dad's hand.
Anna eased up from the swing. "What's the verdict?"
"Since we made it out of here before closing, you got off with a simple ticket, but no jail time."
"I guess that will have to do, but I was hoping we could squeeze some news coverage."
A tight smile crooked his perfectly sculpted mouth as he mimicked her voice. "Why thank you, Forest , for keeping me from paying an expensive fine. And heaven forbid I might have actually had to go to jail and eat their fine cuisine. It's great to see you again."
She slumped in the swing. He had gone to a lot of trouble for her and she was being brattier than a two year old. "Thank you for your time and help. It's, uh, good to see you too."
Even if it had cost her the short stint in jail and a much coveted feature in the weekly newspaper that she'd been hoping for.
Still, heaven knew she needed to put distance between herself and his too-enticing blue eyes. The sparkle in those charmers rivaled any giggles from Joey.