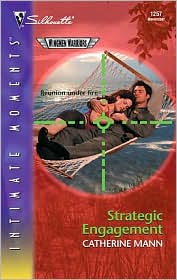 Flying a dangerous mission into a war-torn country to save his two little orphaned brothers was all in a day's work for Air Force hero Daniel Baker.  But finding Mary Elise McRae stowed away on board – scared, alone and living her life on the run from an ex-husband who wanted her dead – was the last thing he'd ever expected.  She'd been his best friend, his lover and nearly his wife.  Danny would stop at nothing to keep her safe… even if it meant falling in love with her all over again.
Reviews
""Catherine Mann returns this month with more of her captivating Wingmen Warriors series in STRATEGIC ENGAGEMENT… Richly developed characters thrust into a well-plotted tale make this sheer enjoyment."
–Debbie Richardson, Romantic Times Magazine
4 1/2 stars!!
"If STRATEGIC ENGAGEMENT is an example of the other books in this series, it shows why the author has made a name for herself in such a short time…a series I'll be following from now on."
–Leigh Thomas, All About Romance
"STRATEGIC ENGAGEMENT is now on my list of favorite books of all time."
–Amelia Richard, Cata-romance Reviews
"Catherine Mann sends the reader sky diving with adventure in her latest Wingmen Warriors installment. Mrs. Mann sucks the reader in from the first sentence and makes them cling for life until the epilogue!"
–Cat Cody, Book Junkies Reviews
"Catherine Mann's "Wingmen Warriors" series … top-notch reads … impressive, passionate, compelling stories that shouldn't be missed."
–Tracy Farnsworth, Roundtable Reviews
"Impossible to put down … this 'Wingmen Warrior' saga can definitely be considered a successfully completed mission!"
–Lea Moyer, Romance and Friends
"Read a book by one of today's most captivating voices in romance and be taken on a thrilling flight of passion, caring and love."
–Kris Alice, A Romance Review
"Another winner in this to die for Air Force series!"
–Suzanne Coleburn, Reader to Reader Reviews
"Danger, suspense and love soar through the skies in STRATEGIC ENGAGEMENT… With each Wingmen Warriors tale released, Catherine Mann always seems to bring the best of the best to our lives with her heroes, heroines and superb writing. "
–Tracey West, Road to Romance Reviews
"The absolutely amazing Catherine Mann continues to enthrall with SIM #1257 STRATEGIC ENGAGEMENT (Nov. 2003), Book #5 in her beloved "Wingmen Warriors" series. Air Force pilot, Captain Daniel "Crusty" Baker latest mission is to rescue his two little brothers from the war-torn country of Rubistan after the death of his father and stepmother in a suspicious car accident. Little does Daniel know that his teenage sweetheart Mary Elise McRae has been teaching in Rubistan and has helped his brothers escape in the crate he's transporting to the U.S. When the C-17 carrier is airborne and the crate's occupants are freed, Daniel realizes that this is only the beginning of his problems since seeing Mary Elise again brings up old feelings he thought he was over. Mary Elise has even bigger problems than her past relationship with Daniel since she's on the run from a vicious ex-husband. Will Daniel and Mary Elise successfully rekindle their former love? In the the deft hands of Catherine Mann, STRATEGIC ENGAGEMENT is series romance at its finest! Ms. Mann was destined to write military romance and readers should thank her for following that destiny!"
–Patricia Rouse, Rouse's Romance Readers Groups