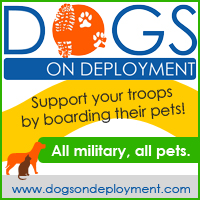 Only one day left in the countdown to Shelter Me's release! The Second Chance Ranch Animal Rescue is the heart of this book – second chances for the people as well as the animals. There are some non-profit organizations I would like to highlight that also touch my heart, charities that focus on both members of our military and on animals.
"Dogs on Deployment" helps find foster homes for pets of service members called up to deploy, helping them keep their pets and helping fewer pets land in shelters.
http://www.dogsondeployment.org/
"Companions for Heroes" helps pair veterans with shelter dogs as therapy and/or emotional support animals.
http://www.companionsforheroes.org/

I hope you'll take a moment to read more about both causes!
What's your favorite charity? Comment below and you'll be entered to win my week-long contest for a tote bag full of books, winner to be chosen on Tuesday, Aug. 5, 2014.
To purchase Shelter Me:
Amazon
Barnes and Noble