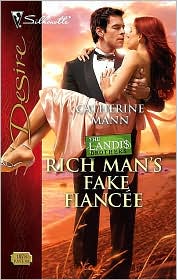 LANDI$ BROTHER$ series:
BK 1: Rich Man's Fake Fiancee
Bk 2: His Expectant Ex
Bk 3: Millionaire in Command
Bk 4: Tycoon Takes a Wife
CONVENIENT PROPOSAL…
Everyone is talking about the surprise engagement between Matthew Landis and Ashley Carson. Seems the oldest son of one of South Carolina's most powerful families is engaged to someone… ordinary. Could this announcement—conveniently leaked to the press—have to do with Matthew's quick exit from Ms. Carson's home very early in the morning? One wonders what chance such a match made in media heaven could have….
Reviews
"RICH MAN'S FAKE FIANCÉE is an emotional, sexy story that will send your heart rate through the roof… This is one book that you'll put on your keeper shelf, and with more Landis brothers stories to come, I'm sure it'll have plenty of company." –Romance Junkies Reviews
"With its delightful setting, likable characters and compelling storyline, RICH MAN'S FAKE FIANCÉE thoroughly entertains readers." –CataRomance Reviews