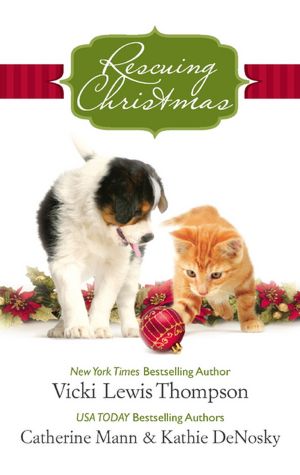 For three couples, this is the season…to give, to heal, to love.
Holiday Haven by Vicki Lewis Thompson
All Ben Rhodes wants for Christmas is to be left alone. And yet, in a fit of Christmas-cheer-induced insanity, he agrees to help beautiful shelter director Tansy Dexter find homes for all her rambunctious animals. Little does he know that the one truly in need of a loving home this season…is him.
Home for Christmas by Catherine Mann
Shelby Dawson Conrad has had more than her fair share of silent nights. But even though her husband, Tech Sergeant Alex Conrad, is coming home in time for Christmas, Shelby isn't sure he's in time to save their marriage. Can a road trip to deliver three shelter dogs to their new homes teach the couple that the most precious gift of all is hope?
A Puppy for Will by Kathie DeNosky
Will Parker hasn't exactly had all his hopes and dreams met, but work has filled the gaps in his life. Or so he thinks…until an energetic and large Saint Bernard foster puppy and Will's cute neighbor Macie Fairbanks introduce him to the best thing about Christmas and life-unconditional love.
REVIEWS:
"This is clearly a book written by animal lovers… I highly recommend it!" -What Every Betty Said Reviews
"Heartwarming… delightful reading… The book truly brought the message of Christmas giving and sharing home for me." -Desere's Contemporary Romance Reviews
"Impossible to resist… good from start to finish… A wonderfully satisfying HEA!" -Reading Amid the Chaos
"Now this was a good book. 🙂 … Definitely go get this one!" -A Bluestocking's Place Reviews
"Rescuing Christmas is a trio of delightful Christmas tales which are sure to please the animal lover in all of us." -Fresh Fiction Reviews
"Home for Christmas by Catherine Mann was REALLY adorable!" -Booktalk With Mariann
"A real treat!" -Night Owl Reviews