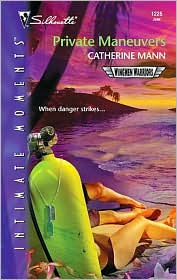 A woman with everything to prove
C-17 copilot Darcy Renshaw wants a piece of the war-zone action like the rest of her Air Force family. Instead she's stuck hauling a brooding marine biologist and his animals to Guam. Kidnapped as a child from her overseas base home, Darcy has since been stifled by her overprotective General father. Once again, she's been shuffled into a peacetime mission and away from the action. Or so she thinks until she meets….
A loner with nothing left to lose
CIA Agent Max Keagan needs a low profile, military airlift to a South Pacific island. He doesn't need First Lieutenant Darcy Renshaw blowing his cover and bringing chaos into his top secret Naval Marine Program. Tapping into the oceanic communications cables will finally reveal the agency traitor who murdered Max's diving partner – his lover carrying his unborn child. Even three years after the loss, Max prefers his solo existence. All the same, he can't suppress the urge to protect one reckless lady pilot. Soon, Darcy finds more turmoil than she bargained for in Max's arms … and at the hands of an assassin who won't rest until Max once again loses everything.
Reviews
"PRIVATE MANEUVERS will leave you breathless and anxiously awaiting the next book in the series."
–Amelia Richard, Cata-Romance Reviews
"Catherine Mann is hotter than ever with PRIVATE MANEUVERS! Get ready to experience edge of your seat suspense with OMIGOD I've gone to heaven sensuality to keep you reading far into the night."
–Suzanne Coleburn, Reader to Reader Reviews
"Catherine Mann's latest romantic offering, PRIVATE MANEUVERS, is another stunning read! Regardless of what topic she chooses, Catherine Mann consistently writes emotionally charged, action packed contemporary romances."
–Tracy Farnsworth, The Romance Reader's Connection
4 1/2 plugs
"The first of the WINGMEN WARRIORS' series to feature a heroine, Darcy stands worthy next to three men who have preceded her."
–Wayne Jordan, The Word on Romance.
"The intrigue and fast-paced excitement in this story captivates the reader taking them on a thrilling ride with humor, suspense and unforgettable characters… Ms. Mann writes with heart and compassion bringing readers real and memorable storylines, sassy and smooth talking characters and a freshness that readers can't get enough of."
–Tracey West, Road to Romance
"…definitely a keeper, like all the rest of the books in this series… For those of you who love a really good military story, put on those old roller skates and get your butt out the door and to the nearest bookstore ASAP."
–Deborah Barber, Escape to Romance
"The fast paced story leaves the reader breathless as the romance and intrigue build to a surprising ending with never a dull moment!"
–Lea Moyer, Romance and Friends
"Catherine Mann has earned her spot by Suzanne Brockmann in the military romance genre. Max and Darcy's story is beyond fantastic!!"
–Elizabeth Benway, Military Romance Fan
"In PRIVATE MANEUVERS, Catherine Mann entertains her readers with her trademark snappy dialogue and humor amidst the serious life and death scenario of the desperate race to stop a killer from striking again… Another must read installment in Ms. Mann's "Wingmen Warriors" series!"
–Janice Bennett, The Best Reviews
"Catherine Mann hits the stratosphere with this book, a page-turner from start to finish. Her knowledge of military life is unsurpassed!"
–Cat Cody, RomanceJunkies.com
"Catherine Mann continues her thrilling Air Force "Wingmen Warriors" series with PRIVATE MANEUVERS (SIM #1226 June 2003). This time it's wingwoman/C-17 copilot, Darcy Renshaw, who is assigned to escort marine biologist, Max Keagan, his associate and two research dolphins back to the tropical waters of Guam. Darcy is not too happy with this plum mission since she is ready and able to see war action to prove to herself and her military family she has "the right stuff". Undercover CIA agent, Max is having a difficult time keeping his hands off Darcy and keeping secret his covert mission of stopping a suspected security communications leak on Guam. Darcy soon discovers there is more to casual beach boy, Max, than she originally thought as he rescues her from deadly insects, snakes and fellow divers trying to kill them. Plenty of action and chemistry makes PRIVATE MANEUVERS a hot page-turner and will further endear readers to Catherine Mann's terrific series!"
–Patricia Rouse, Rouse's Romance Readers Groups