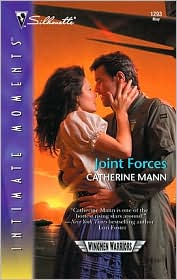 After being held prisoner in a war-torn country, Senior Master Sergeant J.T. "Tag" Price returned home to find his already rocky marriage nearly dissolved; his relationship with his children crumbling. Then his wife Rena dropped a bomb of her own: she was pregnant. After more than twenty years of marriage they were expecting a new baby…and J.T. realized his second chance had arrived.
As J.T. set out to re-romance his wife, sudden danger loomed. Someone was out to destroy those he loved…someone willing to resort to murder. Now Rena and J.T. would need the joint forces of their history, their love and their devotion to their family to fight against this perilous foe. But would the cost be higher than anyone dared imagine?
Reviews
"In JOINT FORCES, Catherine Mann beautifully integrates an emotional story of military operations, family life, mystery and passion."
–Romantic Times BOOKclub
4 1/2 Stars, Top Pick!
"JOINT FORCES is an emotional ride started on the very first page and continued until the last."
–Cata-Romance Reviews
5 Stars!
"Catherine Mann writes another stunning novel that is as gripping in its suspense as it is touching in its emotional pull."
–Romance Junkies Reviews
5 Blue Ribbons!
"…a wonderful balance of danger, love and excitement. The addiction to the Wingmen Warriors just keeps on thriving!"
–Road to Romance Reviews
"……guaranteed to have you turning the pages rapidly as the story keeps you on the edge of your seat."
— Writers Unlimited Reviews
"JOINT FORCES is definitely a must read!"
–The Best Reviews
"Catherine Mann puts a fresh spin on her Wingmen Warriors series, and on the "secret baby" story …. with this story working on so many levels it would be a crime to miss."
–Romance and Friends Reviews