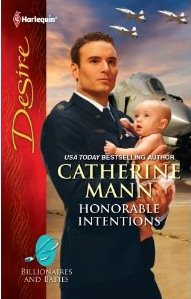 "I'm Here for You."
Major Hank Renshaw knows almost everything there is to know about Gabrielle Ballard. Except for what it's like to touch her. Because Gabrielle is his best friend's fiancée. Or she was. Until his buddy died in battle—right after making Hank promise to find her…
So now Hank's in New Orleans. In Gabrielle's home. Watching her nurse her infant son. It's not honor that draws him to her. It's not duty that makes him stay. It's need he's feeling, plain and simple— the desire to take the woman he's always wanted and finally make her his own.
REVIEWS:
"Catherine Mann certainly knows how to reach your heart through her characters… a memorable tale!" –Fresh Fiction Reviews
"Romance and honor and the plain sexy sizzle of a perfectly matched couple!" –Romantic Times Book Reviews 4 1/2 stars!!