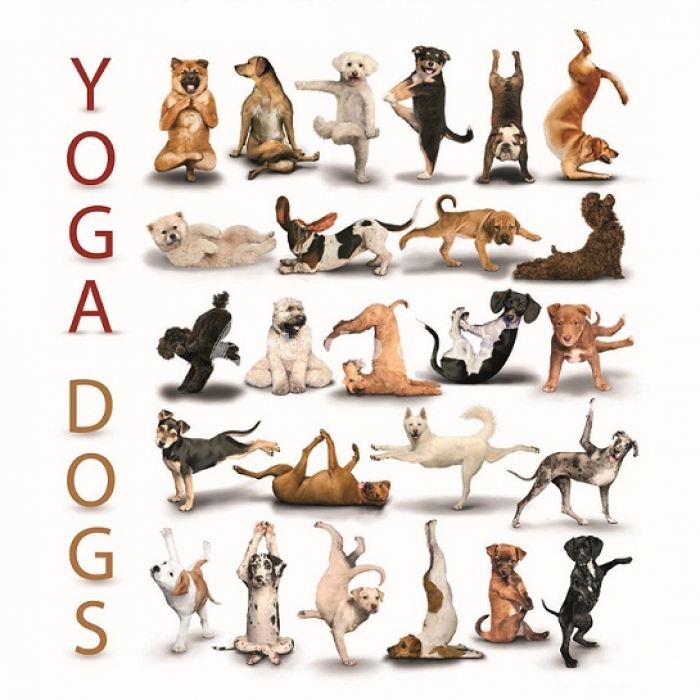 People often ask how I combat writer's block when penning four to five books a year. My answer? I step away from the computer and search out new ways to clear the cobwebs. Although I never could have foreseen one such journey to clear the cobwebs would lead me to Doga Class with a pit bull.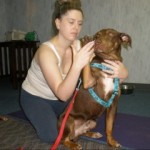 (Instructor Michelle)
Yes, you read that right. Doga. Pronounced Dough-Guh. In essence, it's yoga with a dog, or in my case, doga with a pit-bull.
I've never participated in yoga or mediation before. But I'm an active supporter of my local Humane Society, including fostering motherless puppies. When I heard that my local shelter was starting a monthly doga class, I was smack dab in the middle of a huge plot snarl and doga seemed like a great way to nab some cobweb clearing time.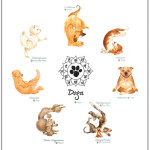 I had read up a little on doga and knew going in that the purpose for shelter dogs is to help them become more adoptable by: 1)Relaxing tension/aggression in a dog stressed from being penned up. 2) Relaxing nervous/timid dogs who need confidence. Doga incorporates chanting, massage, acupressure, as well as reflexology with the paws. (Probably more than you cared to know – pardon my digression!)
Arriving at the shelter, I asked them to pair me with a dog that needed help rather than me just picking a doggie partner. Ask and ye shall receive. I was partnered with Tayler – larger than the dog in the photo above and very much NOT into being touched. He mostly wanted to hang out in a corner by himself, scared.
Now, I've fostered bulldog puppies before, and I have a bulldog of my own. I have a deep affection for the breed. They're sweet dogs by nature, and are sadly often misused by their owners. (Don't EVEN get me started on the evils of dog fighting.) Yet knowing all of this, I was still nervous about finding my center and oneness in a lotus position with a huge animal I didn't know, an animal clearly uneasy and afraid.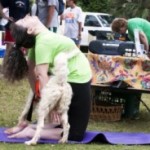 Boy, was I ever in for a surprise. After only a little heart-to-hound Mudra and some Downward Facing Dog, Tayler was a regular pussy cat, resting her chin on her paws, rolling on her back, covering my hands and face with doggy kisses. She was totally mellow – and also apparently majorly into aroma therapy!
By the end of the doga session, my writer's block had cleared. Thanks to Tayler, I realized I simply needed to look at the plot problem from a different angle and enjoy the unexpected path.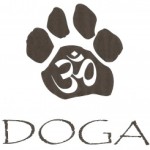 So this week when folks ask me how I combat writer's block, I just smile and say, "I take the pit bull approach."
(Blog updated from a 2010 posting. Copyright: Catherine Mann)
QUESTION: Do you exercise with a pet? I find when I walk with my pack, our feet all synch up in a neat zen fashion! Comment below and note if you would like a "Love Rescued Me" pet bandanna. I still have a few left.!