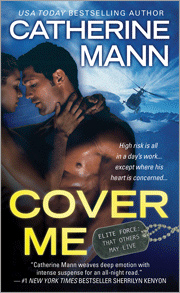 COVER ME,  "Elite Force" Book 1
It should have been a simple mission… Pararescueman Wade Rocha parachutes from the back of a helicopter into a blizzard to save a climber stranded on an Aleutian Island, but Sunny Foster insists she can take care of herself just fine…
But when it comes to passion, nothing is ever simple… With the snowstorm kicking into overdrive, Sunny and Wade hunker down ina  cave and barely resist the urge to keep each other warm… until they discover the frozen remains of a horrific crime…
Unable to trust the shady local police, Sunny and Wade investigate, while their irresistible passion for each other gets them more and more dangerously entangled…
***
Click here to see a video book trailer for COVER ME!
REVIEWS:
"An exciting storyteller, Catherine Mann weaves deep emotion with intense suspense for an all-night read." –#1 New York Times bestseller Sherrilyn Kenyon
"Mann (Renegade) delivers plenty of thrills and charged erotic situations with this first in a new series featuring pararescue men, elite U.S. Air Force heroes ready for tense 'land, sea, or mountain, military missions or civilian rescue' around the globe… bracing thriller with a strong-willed heroine and sensitive, hard-bodied hero." –Publishers Weekly
"I Love, Love, Loved this. Catherine Mann takes military romance to the next level by bringing us the branch of the Pararescue Jumpers.  This is like extreme sports meet military for heroes." –Night Owl Reviews
"Military romantic suspense meets the Alaskan outback in the sexy thriller COVER ME." –Romance Reader at Heart
"This summer sizzler set in Alaska is one cool romantic read. It has intrigue, a bad guy, a super good guy and a kick-butt Sunny Foster. For romantic suspense readers who love tough-as-nail women partnered with military heroes, Mann's Elite Force series is for you.  Air Force pararescueman Tech Sergeant Wade "Brick" Rocha lives by their motto, "That Others May Live." He takes on a mission to rescue a mountain climber on an Aleutian island, and is put in a precarious situation with a woman who doesn't want his help. But he knows she's in trouble. Survival guide Sunny Foster doesn't need to be rescued from a blizzard in the Alaskan mountains, but she is running from something. Can this mysterious, rugged airman be her savior or will he get her killed?" —Romantic Times Reviews Magazine,  4 1/2 stars TOP PICK!
"Adventure and suspense are the hallmarks of Mann's award-winning military romances, and this first book in the Elite Force series won't disappoint her many fans." —Booklist Reviews
"… the first Elite Force romantic suspense is an exciting romantic suspense thriller…" –Genre Go Round Reviews
"COVER ME has perilous action, fervent passion and an absolutely marvelous cast of characters… one of the best I have ever read." –Cataromance Reviews
"Non-stop action and strong characters make this book one you don't want to miss…I was captivated and couldn't put down the book… Catherine Mann is an auto buy for me!"  –The Romance Studio (5 hearts!)
***
The "Elite Force" series continues with:
HOT ZONE, December 2011
UNDER FIRE, May 2012