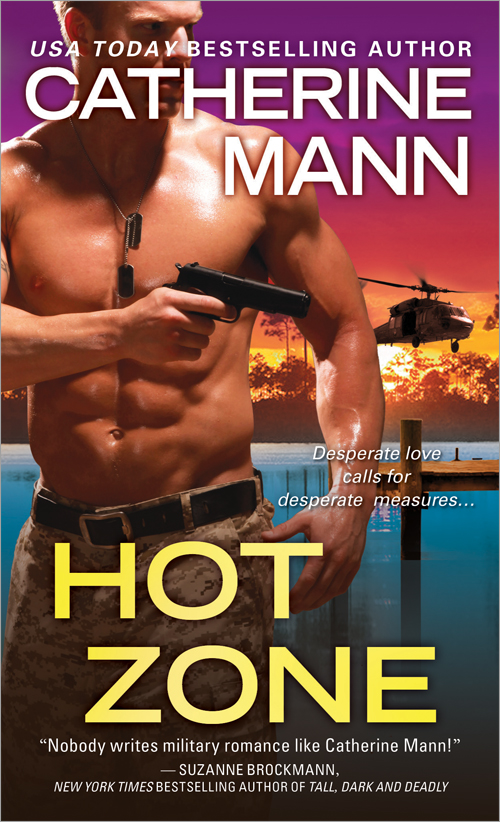 Happy Holidays! Can hardly believe it's the end of 2011 already! So much accomplished and so much to look forward to in 2012. 🙂
Here's an overview for this month:
*HOT ZONE: The next book in my "Elite Force" series – HOT ZONE – is on shelves now!
*BLOG TOUR: Check out my blog tour schedule on the main page of my website. Free books given away at every stop on the blog tour. FMI on specific dates and blogs, check out the main page of my website: https://catherinemann.com
*USA Today: Yes, USA Today has interviewed me for their Happily Ever blog! Check it out at:
http://books.usatoday.com/happyeverafter/post/2011-12-04/interview-catherine-mann-author-of-hot-zone/578111/1?fb_ref=.Ttw_D3i-EwA.like&fb_source=profile_oneline
*BOOKMARKS: Send a SASE to P.O. Box 6065, Navarre, FL 32566 for bookmarks.
*Ever wonder exactly what an Air Force pararescue jumper is? Check out this clip from the History Channel's MAIL CALL: http://www.youtube.com/watch?v=DHa14egZKSw
***HOT ZONE is on shelves now!***
HOT ZONE
Days full of danger…
For Pararescueman Master Sergeant Hugh Franco, it's all about saving other people's lives. Then he moves on. But when he pulls beautiful Amelia Bailey and her adopted nephew from the rubble of a catastrophic earthquake, he finds himself entangled in their lives in ways he could never have imagined…

And desire-filled nights…Amelia's trip to the Bahamas to help with an international adoption has been no vacation, but the hardest part is yet to come. As Amelia and Hugh are pulled unawares into a deadly smuggling scheme, simmering beneath their growing need to protect each other is a compelling attraction they're both determined to deny…
***
"Elite Force" series:
Book 1: COVER ME, Available Now!
Book 2: HOT ZONE, Available Now!
Book 3: UNDER FIRE, May 2012
"Catherine Mann's powerful writing style sweeps the reader into pulse-pounding dangers, gripping suspense, and spine-tingling passion—a transporting read." –Long & Short Romance Reviews
"This story is a MUST READ! Ms. Mann is a master with romantic suspense! You just can't miss it!" –Dark Divas Reviews (5 Divas)
"…a spectacular ride." –Leslie's Psyche Reviews (5 stars)
"What an incredible, action-packed, emotional book…characters that I fell in love with, all tied up in wonderful writing." –Smitten With Reading Reviews (A+)
****
Wishing everyone a blessed, safe and happy holiday season!
Holiday Hugs,
Cathy
Catherine Mann – USA Today Best-seller
HOT ZONE, "Elite Fore," Sourcebooks, Dec 2011
CODE OF HONOR, "Special Ops," HQN, Jan 16, 2012 (ebook reissue)
BLAZE OF GLORY, "Special Ops," HQN, Jan 16, 2012 (ebook reissue)
PROTECTOR, "Dark Ops," Berkley, March 2012
HONORABLE INTENTIONS, HQ Desire, April 2012
UNDER FIRE, "Elite Force," Sourcebooks, May 2012
https://catherinemann.com