A Christmas Baby Surprise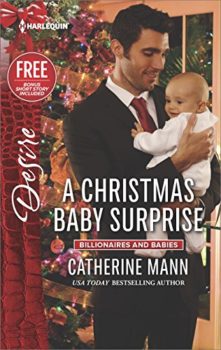 Billionaires and Babies
November 1, 2015
e-Book
Will amnesia offer a second chance for this couple and their baby? Find out, only from USA TODAY bestselling author Catherine Mann.
After a car accident, Alaina Rutger can't remember her husband or their newly adopted baby. But her amnesia also means she's forgotten the disaster they made of their marriage.
Her husband, Porter, knows he's made mistakes. Now he'll do whatever it takes to rebuild the family he nearly lost—even keep their near-divorce from his wife. This Christmas he'll convince Alaina to stay. But will a secret she's kept for years resurface and put them to the ultimate test?
Enjoy a special Texas Cattleman's Club: Lies and Lullabies bonus prequel short story from Janice Maynard: Reclaimed by the Rancher.
Other Books in the Billionaires and Babies Series