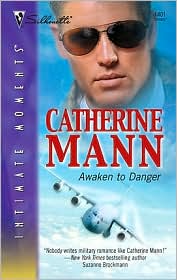 SLEEPING WITH DANGER
She awoke with no memory of the night before and a dead body beside her.  Suddenly Nikki Price was the prime suspect in a murder.  Even worse, working the case was Air Force Major Carson "Scorch" Hunt the wingmen warrior she'd been pining for forever.
They'd spent one night together months ago and Carson hadn't said a word to her since.  But now with the real murderer out to silence Nikki, he was the only one who could keep her safe.  She agreed to his protecting her, but she wouldn't let their mutual attraction take over.  Nikki had awoken to danger once before and barley survived sleeping with Carson could prove more lethal.
Reviews
"Lickety-quick and character driven, this is another great read in Mann's series."
–Romantic Times BOOKclub
"AWAKEN TO DANGER will keep you up all night."
— Romance Junkies
"…beguiling characterization and captivating plot, AWAKEN TO DANGER is an original and spellbinding romance."
–Cataromance Reviews
"Catherine Mann's AWAKEN TO DANGER, Book #9 in her Wingmen Warriors series offers everything romance readers crave: an engaging couple, an engrossing plot and a love story that beats the odds. Being a military wife herself, Ms. Mann offers a unique insiders view on the courageous men in the Air Force and the brave women, who love them. AWAKEN TO DANGER will awaken readers' emotions and definitely turn them on to Catherine Mann's Wingmen Warriors series."
–Rouse's Romance Readers Group