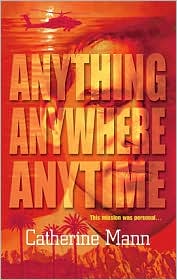 A mission of the utmost secrecy.
A country torn apart by war.
A man with his defenses crumbling.
With one week to complete a top-secret mission, Major Jack "Cobra" Korba did not need emotional distractions.  But when flight surgeon Monica Hyatt, his estranged ex-lover, was added to his team, the sensitive assignment suddenly became all-too personal.
With two sisters trapped behind enemy lines, Monica maneuvered herself onto Jack's flight crew, determined to rescue her loved ones while keeping her desire for Jack safely in check.  Yet on the brink of the most dangerous task either had ever faced, their passions led to an explosive encounter.
With three words still left unsaid and time of the essence, would Jack, Monica, and all those embroiled in the battle to save innocent lives, find a way to complete their duty before all hell finally broke loose?
Reviews
"…action-packed romance… Anything, Anywhere, Anytime is a guaranteed page-turner filled with heroes and heroines passionate about love and duty."
–Susan Mitchell, Romantic Times BOOKclub
4 1/2 TOP PICK!!
"Mann deftly weaves the three sisters' stories together while providing a stark, edgy, and compelling look at the dangers faced by military personnel."
–Booklist
"Catherine Mann breaks the sound barrier with this gripping tale of strong women and the men that love them."
–Cat Cody, RomanceJunkies.com,
5 Blue Ribbons
"Anything, Anywhere, Anytime is compelling and patriotic, sensual and brave… This award-winning novelist is one of the best when it comes to delivering emotional punch and in-depth characterization."
–Kris Alice, A Romance Review,
5 Roses!
"ANYTHING, ANYWHERE, ANYTIME is Ms. Mann's crowning achievement in her Wingmen Warriors series."
–Amelia Richard, Cata-Romance Reviews,
5 Stars
"In ANYTHING, ANYWHERE, ANYTIME… Catherine Mann shows why she is the very best of the best in the romance genre today…"
–Tracey West, Road to Romance Reviews,
"Catherine Mann takes flight and soars with her first full length "Wingman Warrior" novel… Strong characters and a strong plot merge to deliver a story full of intensely emotional highs and lows, as well as lush sensuality."
–Lea Moyer, Romance and Friends
"Talk about more bang for your buck! Ms. Mann weaves … just the right amount of action and romantic intrigue and comes up with a winner. An excellent read!"
— Heather Heath, Old Book Barn Gazette
"A fast paced military romance…. this book showcases Mann's great talent at characterization and storytelling."
–All About Romance
"Ms. Mann, who in only two years has proven herself a major talent writing her "Wingmen Warriors" series for their Intimate Moments line, raises the bar to new heights with her first Silhouette single title, ANYTHING, ANYWHERE, ANYTIME (March 2004)! In this magnificent mainstream romance, Mann weaves pure military magic with a terrific triple love story about three sisters who are each involved with men who have "the right stuff" serving their country as an Air Force pilot, an Army Ranger and a Navy SEAL. ANYTHING, ANYWHERE, ANYTIME stands for exceptional action, adventure and amore!"
–Patricia Rouse, Rouse's Romance Readers Groups