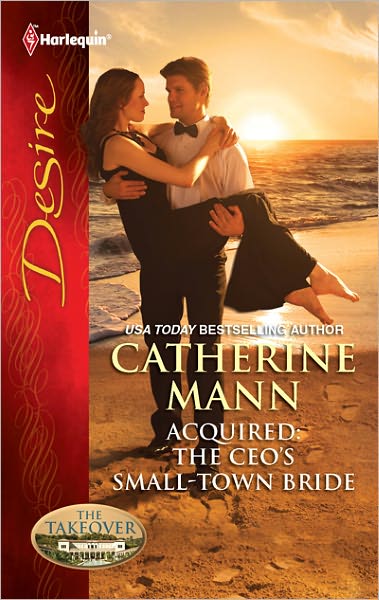 !!!!FREE BONUS FEATURE!!!!  Read FREE prequel novella (5 chapters) chronicling Rafe and Sarah's high school romance!  Click here to begin reading "Rafe & Sarah: The Beginning"!  (Text Copyright © 2011 by Harlequin Books S.A. Permission to reproduce text granted by Harlequin Books S.A.)
****
ACQUIRED: CEO'S SMALL TOWN BRIDE (Back Cover Blurb)
"I'm taking over."
The people of Vista del Mar were about to pay.  Now that Rafe Cameron had made his fortune, he was out to settle old debts.  Except he hadn't counted on running into Sarah Richards—his feisty ex-flame who was determined to put an end to his feud with their hometown.
Secretly amused that Sarah had turned into such a do-gooder, Rafe allowed himself to consider her pleas.  But nothing, not even the thawing of his own frozen heart, would make this CEO amend his plans.  Until one revelation changed everything.
The Takeover:  For better, for worse.  For business, for pleasure.  These tycoons have vowed to have it all!
***
REVIEWS:
"Mann's neat wrap-up of the Takeover series is a juicy foray into high school romance and adult responsibilities, with a tantalizing couple and a startling climax. " –Romantic Times (4 1/2 Stars!)
"A sensual, beautiful tale, ACQUIRED: THE CEO'S SMALL-TOWN BRIDE delves into the heart and soul of Rafe and Sarah. Catherine Mann has once again penned a fabulous story featuring Rafe, a strong, stubborn male who thinks he knows what he wants, yet won't admit he really wants the woman who got away…Sarah. In ACQUIRED: THE CEO'S SMALL-TOWN BRIDE, he gets a second chance to win the heart of the only woman he's ever loved. You'll find yourself rooting for both of them. Don't miss this captivating read." –Romance Reviews Today
" Catherine Mann has definitely penned another winning story. ACQUIRED: THE CEO'S SMALL-TOWN BRIDE is a rewarding story in the Takeover series, as it is overflowing with heartfelt emotions and blazingly fervent desire." –Cataromance Reviews
***
"The Takeover" series:
Book 1 – Claimed: The Pregnant Heiress by Day Leclaire (January 2011)
Book 2 – Seduced: The Unexpected Virgin by Emily McKay (February 2011)
Book 3 – Revealed: His Secret Child by Sandra Hyatt (March 2011)
Book 4-  Bought: His Temporary Fiancee by Yvonne Lindsay (April 2011)
Book 5 – Exposed: Her Undercover Millionaire by Michelle Celmer (May 2011)
Book 6 – Acquired: CEO's Small Town Bride by Catherine Mann (June 2011)