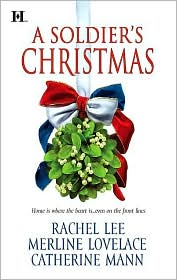 There's just one thing keeping Air Force aviators Joshua and Alicia Rosen from finalizing their divorce – the Arctic survival course they have to pass together. But when they find themselves chased across the frozen tundra by armed pursuers, even the Alaskan chill is no match for the heat of their desire.
A SOLDIER'S CHRISTMAS
"I'll Be Home" by Rachel Lee
"A Bridge for Christmas" by Merline Lovelace
"Wingman's Angel" by Catherine Mann
Reviews
"Strong writing and smooth dialogue make this a fast, enjoyable read…. Physical danger and emotional land mines accompany them, creating both professional and personal intrigue in this well-written tale."
–Romantic Times Magazine 4 stars
"Ms. Mann never fails to deliver the best … THE WINGMAN'S ANGEL intertwines suspenseful danger with a touching romance for a story that is remarkable."
–Cata-romance Reviews 5 stars!!
"Three of today's hottest authors come together in a heart-warming Christmas anthology."
–Romance Reviews Today
"A SOLDIER'S CHRISTMAS is a wonderful anthology filled with sexy men in and out of uniform …. a book that will keep you warm on a winter's night"
–Romance Junkies Reviews
"Three exciting well-written military romance novellas!"
–Reader to Reader Reviews