Way of the Warrior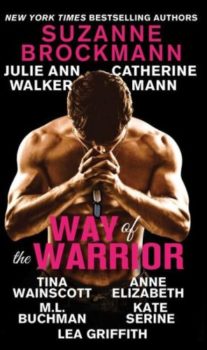 Elite Force Book 5
May 5, 2015
Casablanca Paperback, e-Book
EIGHT PASSIONATE LOVE STORIES ABOUT AMAZING MILITARY HEROES BY BESTSELLING AUTHORS:
Suzanne Brockmann, Julie Ann Walker, Catherine Mann, Tina Wainscott, Anne Elizabeth, M.L. Buchman, Kate SeRine, Lea Griffith
To honor and empower those who've served, all author and publisher proceeds go to the Wounded Warrior Project.
The Wounded Warrior Project was founded in 2002 and provides a wide range of programs and services to veterans and service members who have survived physical or mental injury during their brave service to our nation. Get involved or register for programs and benefits for yourself and your family online at www.woundedwarriorproject.org.
Way of the Warrior includes:
Hot as Hell by Julie Ann Walker
In Plain Sight by Catherine Mann
Torn by Kate SeRine
War Games by Lea Griffith
Beauty and the Marine by Tina Wainscott
NSDQ by M.L. Buchman
SEALed with Passion by Anne Elizabeth
Home Fire Inferno by Suzanne Brockmann
"It is a proud privilege to be a soldier." —George S. Patton Jr.

"We sleep safely at night because rough men stand ready to visit violence on those who would harm us." —Winston Churchill
Other Books in the Elite Force Series