Under Siege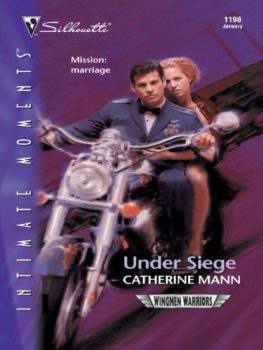 Wingmen Warriors Book 3
January 1, 2003
Intimate Moments e-Book
To the air force, Lt. Col. Zach Dawson was a dress-blue bona fide hero, complete with medals and behind-enemy-lines battle scars. But a hero didn't allow an airman's pregnant wife to become a widow under his watch. And a hero didn't command combat squadrons yet lack control over two daughters desperately in need of maternal love.
To heck with heroes. Zach the man and father knew exactly what needed to happen. Julia Sinclair would become his bride-of-convenience, her baby and his girls gaining a parent in the bargain. But having Julia under his roof put Zach's reputed restraint under siege. Because honoring their hands-off, no-hearts arrangement was a mission he simply couldn't accomplish….
Originally published January 2003 in mass market paperback.
Other Books in the Wingmen Warriors Series