Private Maneuvers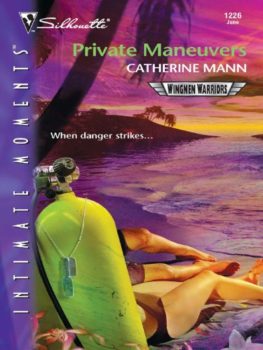 Wingmen Warriors Book 4
June 1, 2003
Intimate Moments e-Book
C-17 copilot Darcy "Wren" Renshaw wanted a piece of the war-zone action like the rest of her air-force family. Instead, she was stuck hauling a brooding scientist to the calm waters of Guam. Darcy thought she was being shuffled far away from the action…until she met Max Keagan and embarked on the mission of her life.
Undercover CIA agent Max needed a military airlift to a South Pacific island. He didn't need First Lieutenant Darcy Renshaw blowing his cover and bringing chaos to his top secret program. But Darcy and danger seemed destined to go hand in hand. And while trying to keep Darcy safe, Max realized he was soon in danger of losing his well-guarded heart.
Originally published June 2003 in mass market paperback.
Other Books in the Wingmen Warriors Series