Grayson's Surrender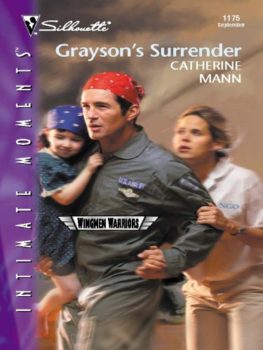 Wingmen Warriors Book 1
September 1, 2002
Intimate Moments e-Book
Nothing frightened Grayson "Cutter" Clark. Yet the sight of Lori Rutledge had the Air Force flight surgeon almost dropping to his knees. After a year without her, Grayson was now her partner. Suddenly, rescuing a group of orphans from a war-torn country seemed easy compared to keeping his feelings for Lori locked safely away.
He was the only man she'd ever wanted, but Lori dared not forget Grayson's need for emotional distance. She'd accepted they would never share a family…until fate delivered a heart-tugging orphan into their care. Now Lori had reason to keep him beside her. But could she settle for anything less than Grayson's ultimate surrender?
Originally published September 2002 in mass market paperback.
Other Books in the Wingmen Warriors Series