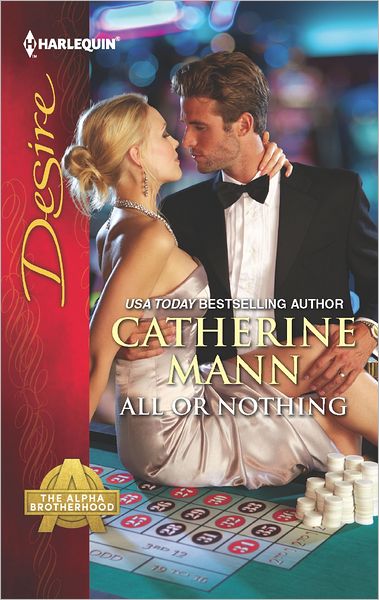 Date Published: January 2013
Publisher: Harlequin Desire
The "Alpha Brotherhood" continues with ALL OR NOTHING
"I can't sleep with a man who keeps secrets."
Despite the warnings that he would break her heart, Jayne Hughes fell for the bad boy. And Conrad Hughes, casino magnate, did just that with his absences and lies. Now she's ready to move on, but her husband has other plans….
Conrad's work for Interpol destroyed his marriage. When Jayne comes to Monte Carlo seeking a divorce, he launches an all-out assault. Seducing his wife back into his bed is child's play; earning her trust is another matter. Yet Conrad knows the odds favor the house. And he has no intentions of losing….
REVIEWS:
"Plenty of fire, action, and romance here, plus a deep connection between the characters that will leave readers begging for the couple to stay together." -Romantic Times Reviews 4 1/2 stars (Fantastic/Keeper!)
"This love story is intense, the characters clearly drawn and shaped…intensity that drives this story forward to its conclusion. I hope you will seek this book out and enjoy it as much as I did." -Book Binge Reviews
"…passionate and intense…" -Harlequin Junkie Reviews
"There's love, steamy sex scenes, mystery and adventure. This book definitly earned all the olives I could rate it." -MartiniTimes.com
Watch for the next "Alpha Brotherhood" book – PLAYING FOR KEEPS – available in April 2013.
Read an Excerpt
"What if I say no?"
Not an option. Conrad played his trump card. "Do you want my signature on those divorce papers?"
Jayne dropped her rings on top of the computer that just happened to be resting over divorce papers. "Are you blackmailing me?"
"Call it a trade." He rested his hand over the five-carat diamond he'd chosen for her, only her. "You give me two days and I'll give you the divorce papers. Signed."
"Just two days?" She studied him through narrowed, suspicious eyes.
He gathered up the rings and pressed them to her palm, closing her fingers over them again. "Fourty-eight hours."
Fourty-eight hours to romance her back into his bed one last time…